 Teams discontinues Wiki channel tab for automatic setup
Least popular Standard Teams component is highlighted
I don't know why this situation has arisen, but the Teams Wiki channel tab seems to elicit strong emotions from many. Maybe it's a case of"I don't know why Microsoft built this into Teams," or"OneNote is much better," or even"I hate that the Wiki is a default channel tab, along with Files and Messages." Maybe it's a combination of all three. In any case, Wiki-haters will be pleased with Message center notification MC399867 (July 12), which announced that Teams will no longer automatically configure a wiki tab during the creation of new default channels after mid-August 2022. MC399867 mentions private channels, but as far as I can tell, new private channels do not get a wiki when created and neither do shared channels.
Why Wiki and not OneNote?
Much hot air and fuss is generated about the inadequacy of the Teams wiki and why Microsoft should have replaced it with OneNote everywhere. While it is reasonable to ask why tenants do not have an option to turn off the wiki and replace it with OneNote (or not fill out a channel ticker for notes at all), it is important to realize that the Teams wiki originated as a simple note-taking solution that was added at the beginning of the Teams journey when the development group was figuring out what Teams could deliver.
At that point, it seemed reasonable to include a tool that had no dependency other than SharePoint Online, and that's what the Teams wiki is. The editor is not fantastic, it does not support new developments such as Loop components that OneNote should do in the future, but it is perfect for note taking (Figure 1).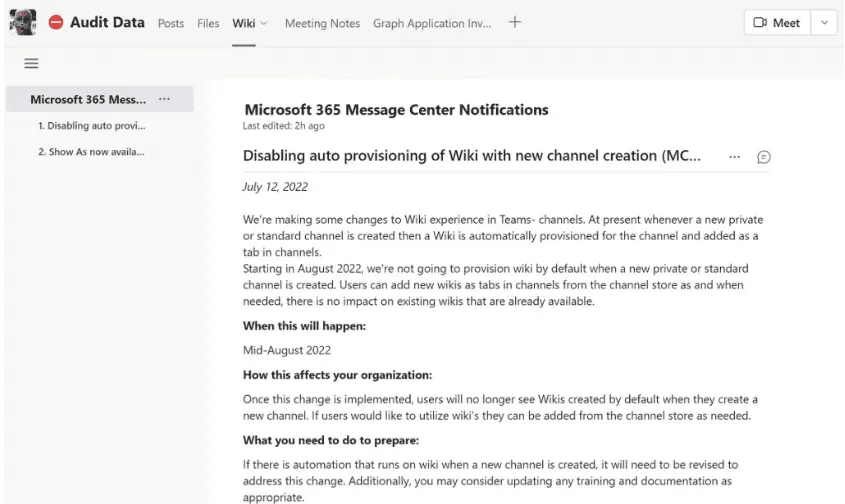 Experience since then has shown that many Microsoft 365 customers prefer OneNote and don't see the need to have another note-taking tool. But that's the advantage of going into effect after the fact, and the change being made now opens up the possibility that Microsoft will allow customers to automatically set up a OneNote channel tab instead.
Not dead yet
Microsoft's change in channel provisioning does not mean that the Teams wiki is dead. You can still add a wiki as a tab after you create a new channel and there is no impact on existing wiki tabs. They remain in place until a team owner decides to remove the wiki channel tab (Figure 2).

The elements that make up a Teams wiki are stored in the Teams wiki document library on the team's SharePoint Online site. Separate folders in the document library store the Wiki files for each channel. The files are pointers to hidden list items where the real wiki data exists. When you delete the wiki tab from a channel, Teams deletes the wiki files but leaves the folder intact. After all, you may want to add the wiki tab again in the future.
Source: office365itpros
The latest news about Microsoft 365 and Teams in your mailbox every week.