 Microsoft Places unveiled at Ignite 2022
Microsoft introduced Microsoft Places at Ignite 2022 as a means of optimizing workplaces for hybrid working.
The new app uses intelligence to determine where hybrid working takes place, which the company says will lead to "increased connections, engagement and productivity" by bridging virtual and physical spaces.
Microsoft Ignite is an annual Microsoft conference aimed at IT professionals. It showcases the company's latest products and services, as well as training, insights and networking opportunities. This year, Microsoft Ignite took place live from the Seattle Convention Center (Seattle, Washington, USA) October 12 – 14.
Jared Spataro, Corporate Vice President for Microsoft 365, said, "When spaces have meaning and purpose, they become places. That comes from people coming together, connecting and sharing an experience together. It's what makes a house a home – and an office worth entering.
"Today I am excited to introduce Microsoft Places, our new connected workplace platform that will reinvent hybrid and personal work. This platform delivers solutions that coordinate where work happens, modernize the office with intelligent technology and optimize the workplace for changing needs.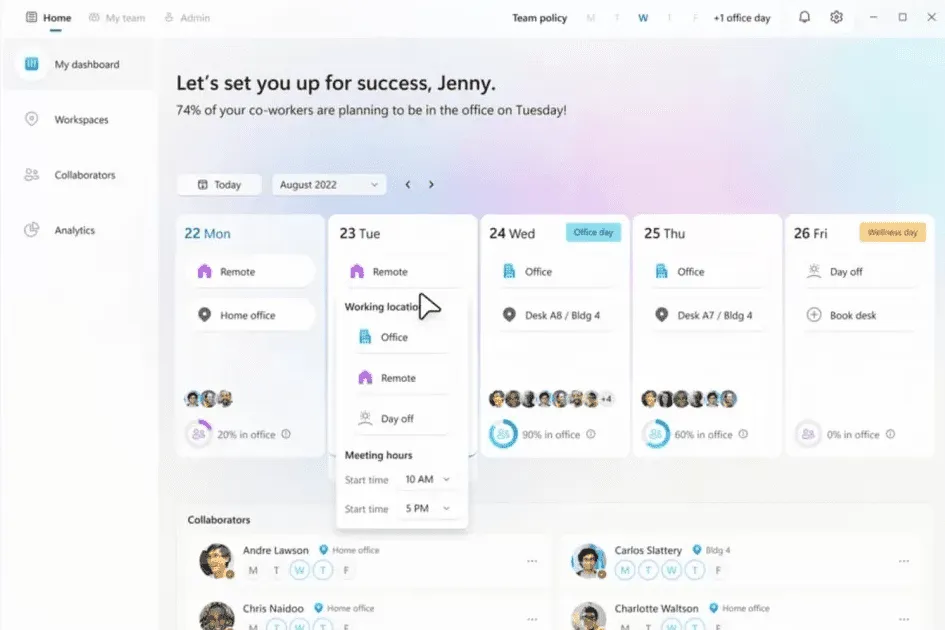 Microsoft Places features
Microsoft Places was created to bridge the gap between in-person and remote working. It has been released to coincide with companies looking to redesign their workplaces to better serve hybrid workers.
Here is a list of the Microsoft Places features, which will soon be available as preview versions:
Dashboard view: A dashboard view is available to display which days colleagues will be working in the office.
Location indicator: The physical location of colleagues can be seen whether they are in the office, remote or mobile.
Reservation Viewer: It is possible to view workspaces booked by others to help employees choose where to sit.
Travel Schedule: Travel time can be scheduled automatically and the app can also provide insights and advice on commuting and passing time.
Navigation assistance: The app can provide navigation assistance in the office. This helps avoid confusion or getting lost, which is especially helpful for guests and hybrid workers who are not as familiar with the office layout.
Hot desk booking: Employees can book the desk they want, perhaps choosing a chair near a colleague next to whom they want to sit. When you arrive in your chosen space, Microsoft Places has inclusive features to strengthen relationships with colleagues. For example, chance encounters allow workers to create impromptu encounters with each other.
Meeting room booking: Meeting room reservations can be made using the Microsoft Places app.
Sentiment insights: Insights and advice can be provided on sentiment toward hybrid policies, helping managers ensure best practices.
Insights on space use: Insights and guidelines are also available on space use, allowing decision makers to prepare for the future and incorporate flexibility into their workspaces. These insights may include occupancy trends, energy-saving opportunities and usage data.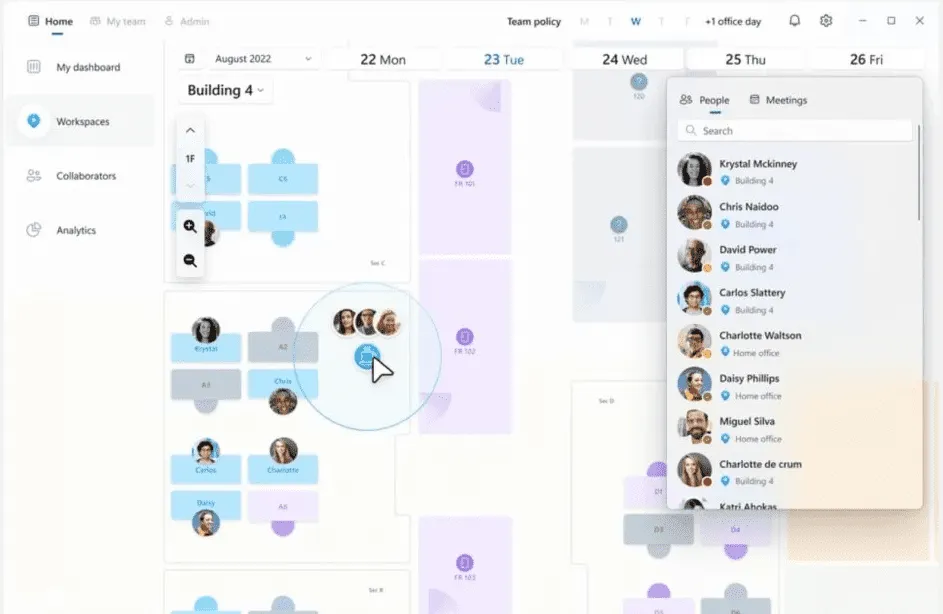 Microsoft Places partnerships
Spataro explains the importance of his partnerships for Microsoft Places: "To make sure we solve the most pressing challenges about where work happens, we are partnering with companies in the Connected Workplace area.
"Our ecosystem of partners will build on top of the Places platform with new and existing solutions, leveraging and enhancing the rich data of the Microsoft Graph.
"We are proud to partner with industry leaders in all segments of the Connected Workplace market: Experience, Platform, Infrastructure, Environment and Planning.
"Together with our ecosystem of partners, Microsoft Places will help create holistic and impactful solutions to meet the changing needs of our customers in the workplace."
Microsoft's "Connected Workplace" partners include Accenture, Appspace, Avanade, CBRE, Genetic, Honeywell, Johnson Controls, JLL, Kastle, RightCrowd, SwiftConnect and more.
source: uctoday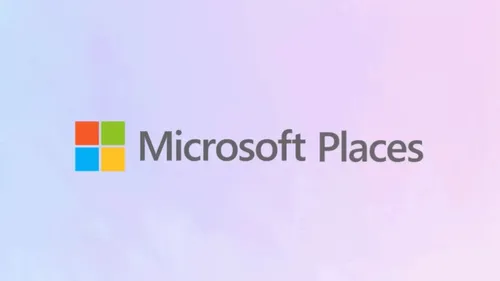 The latest news about Microsoft 365 and Teams in your mailbox every week.