 Microsoft Places: Efficient solution for managing hybrid workplaces
Hybrid working has proven to be a lifesaver for many companies still suffering the effects of the global pandemic. With the convenience and relaxation of working from home and the ability to connect with colleagues around the world, hybrid working offers the best of both worlds.
What is Microsoft Places?
Despite the benefits of hybrid working, many workplaces lack organization. Microsoft Places aims to solve this problem by providing an easy-to-use solution that helps coordinate where work takes place and optimizes workspace and costs.
Microsoft Places is a tool that provides a comprehensive overview of how people use a physical workplace. Places is a connected workspace platform that helps companies manage hybrid workspaces. For employees working remotely, this platform helps them stay connected to their teams, increase collaboration and find the resources they need to be productive.
Workplace coordination and space optimization tools
At the heart of the Microsoft Places platform are workplace coordination tools such as scheduling, availability and productivity monitoring. With these tools, managers can quickly find available spaces for their team members to work together on projects in a more organized way.
Microsoft Places also helps improve energy efficiency with office modernization tools such as lighting optimization, HVAC control and air quality monitoring. Users can easily access shared spaces, such as conference rooms or other areas, while minimizing contact with others.
Integration with Microsoft 365 tools
Microsoft Places integrates with other tools in the Microsoft 365 suite, allowing users to access their data from one central location. This includes things like Outlook calendar, OneNote and SharePoint for better collaboration and productivity, as well as Teams and Yammer for better communication.
Teams Room at ALTA-ICT
In addition to Microsoft Places, ALTA-ICT also offers Teams Rooms services to enhance your hybrid work environment. Contact Alta-ICT to further optimize your workplace productivity and create a seamless experience for your teams.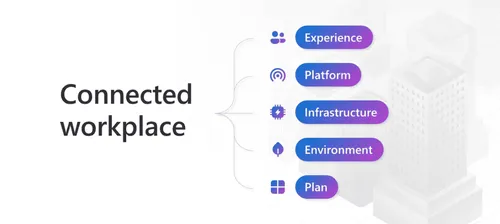 The latest news about Microsoft 365 and Teams in your mailbox every week.