 Meet Microsoft Teams Rooms Pro
The future of work is flexible. Now more than ever, organizations need a single, integrated experience that makes collaboration easier and more engaging for their employees, whether they're all in the same room, remote or – for many of us – a mix of both.
At Microsoft, we are committed to bridging the gap between physical and digital workplaces. More than 60 percent of the Fortune 500 have already chosen Microsoft Teams Rooms to connect employees across the hybrid divide, and active Teams Rooms devices have more than doubled year over year.
Enabling really great hybrid meetings and collaboration has gone from fun to must have . That's why Microsoft is pleased to announce changes to Microsoft Teams Rooms, making it easy to start your hybrid journey.
What is Microsoft Teams Rooms?
Meeting room solutions play a critical role in enabling effective hybrid collaboration, but many of today's room systems are focused on the people who are physically present. Less than 8 percent of the 90 million meeting rooms worldwide are even video-enabled.2
Microsoft Teams Rooms help break down the barriers between spaces, places and people and are designed to provide inclusive meeting experiences with all participants in mind. Teams Rooms can transform any space into a user-friendly and inclusive meeting space where everyone can fully participate and engage, no matter where they are. Teams Rooms is an ecosystem of Microsoft Teams software and certified partner hardware devices that provide flexibility for your meeting needs.
Get started with Teams Rooms today
Make sure everyone everywhere can see, hear and fully participate.
Meet Microsoft Teams Rooms Pro
Meet Microsoft Teams Rooms Pro. Teams Rooms Pro is a new offering that brings together the value of our existing Teams Rooms features, new innovations and the Teams Rooms managed service platform, all in one license. Teams Rooms Pro simplifies the purchase process for our customers and provides the collective benefits of our advances in both hybrid meeting experiences and device management.
Teams Rooms Pro delivers the latest hybrid meeting experiences with a focus on inclusiveness, ease of use, flexibility, security and management. Let's take a look at some of the features that are available or will soon be available for Teams Rooms Pro.
Intelligent audio and video: To help everyone be seen and heard, we combine high-quality audio and video from Microsoft Teams-certified devices with video layout options such as front row, noise reduction and bandwidth optimization. Advanced camera capabilities use AI to make remote participants feel like they are in the room with automatic framing to capture the active speaker.
Increased engagement: In addition to audio and video, one of the best ways for remote participants to establish their presence in a meeting is to easily participate. We're bringing popular features from the Teams personal meeting experience to Teams Rooms Pro, including features like wireless content sharing, handshaking and live responses. And when using the classic video grid layout, chat bubbles alert participants in the room to the conversation taking place alongside the meeting, so nothing is missed.
Powerful collaboration: Real-time collaboration can be part of every meeting for every participant via Microsoft Whiteboard, Microsoft Surface Hub 2S and the intelligent capture of an analog whiteboard. Easily add a touch screen to enable multi-user whiteboarding or add a content camera to share an intelligent, extended whiteboard view in Teams meetings.
Management and security: Great meeting experiences start behind the scenes with strong security and operations. Teams Rooms Pro provides essential enterprise-level management and security, including access control, remote configuration and device analytics, as well as IT service management (ITSM) integration. Teams Rooms Pro also includes the Teams Rooms managed service platform, which provides AI-driven operations that automate updates, problem detection and resolution at scale.
Teams Rooms Pro is now available for USD40 per user/month.
Updates to the managed service of Teams Rooms
Teams Rooms managed service enables customers to scale and optimize their rooms implementation. Building on our lessons learned that have delivered this value over the past few years, today we are announcing an evolution to one of the teams rooms managed service workflows. As of October 1, 2022, incidents are automatically fixed or forwarded to the customer's IT department or designated management partner, without the intervention of our engineers.
Teams Rooms' managed service platform continues to provide all the platform value that Premium customers know and use today, including all-day monitoring, update configuration, incident diagnostics, inventory planning and advanced incident analytics.
We will focus our approach on growing and deepening the value of our managed service software platform by increasing our investment in features. Additional support for Teams Rooms issues will be moved to our standard processes for customers in their Microsoft products.
Microsoft Teams Rooms Basic
Microsoft Teams Rooms Basic makes it easier for small businesses to create hybrid meeting experiences. Teams Rooms Basic provides fundamental Teams meeting experiences such as scheduling, meeting participation, and wireless content sharing. For customers who need core management and hybrid meeting features, we recommend Teams Rooms Pro.
Teams Rooms Basic is included with the purchase of any certified Teams Rooms device at no additional charge purchased on or after September 1, 2022. Customers can apply up to 25 basic licenses to their tenant.
More information
Learn more about Licensing for Teams Rooms.
As the new way of working requires increasing flexibility, Microsoft is committed to inclusive meeting experiences and seamless device management. We believe that these features will enable organizations to support their employees and help them thrive in the hybrid workplace.
We are excited about the role Microsoft Teams Rooms plays in this mission and the roadmap of innovation that lies ahead.
Teams Rooms Pro get
To get started, check out Teams Rooms subscriptions and pricing.
Source: weblanwan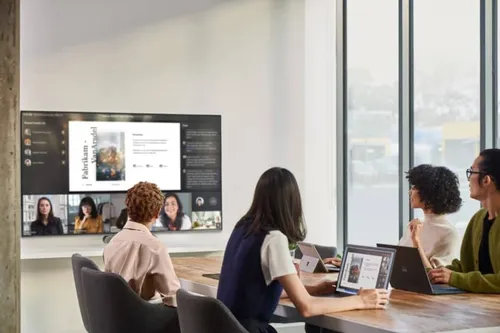 The latest news about Microsoft 365 and Teams in your mailbox every week.