 What Is Microsoft Fabric?
Microsoft gave a look at its latest innovation, Microsoft Fabric, at Build 2023. This platform, which is expected to reshape the data analytics world, pools resources to reduce costs and simplify resource management.
In the era of Software as a Service (SaaS), Microsoft Fabric marks an evolutionary step from Microsoft's current analytics solutions. Users can now learn about this innovative solution through a free trial.
What makes Microsoft Fabric unique?
At the heart of its digital transformation, Microsoft has developed a complete redesign of its data analytics workflow. The result is Microsoft Fabric. This innovative platform integrates Azure Data Factory, Synapse Analytics, and Power BI into one unified SaaS environment. The goal? The ultimate analytics platform, perfectly designed for the AI era.
Thanks to its SaaS foundation, Microsoft Fabric covers the full spectrum of analytics operations. From data collection and transformation to analysis and presentation, everything is streamlined and optimized.
A look at OneLake: the unified computing framework
OneLake, a critical component of Microsoft Fabric, is quickly becoming recognized as the "OneDrive for Data." Each organization has a single OneLake, designed to be a secure and efficient source of truth.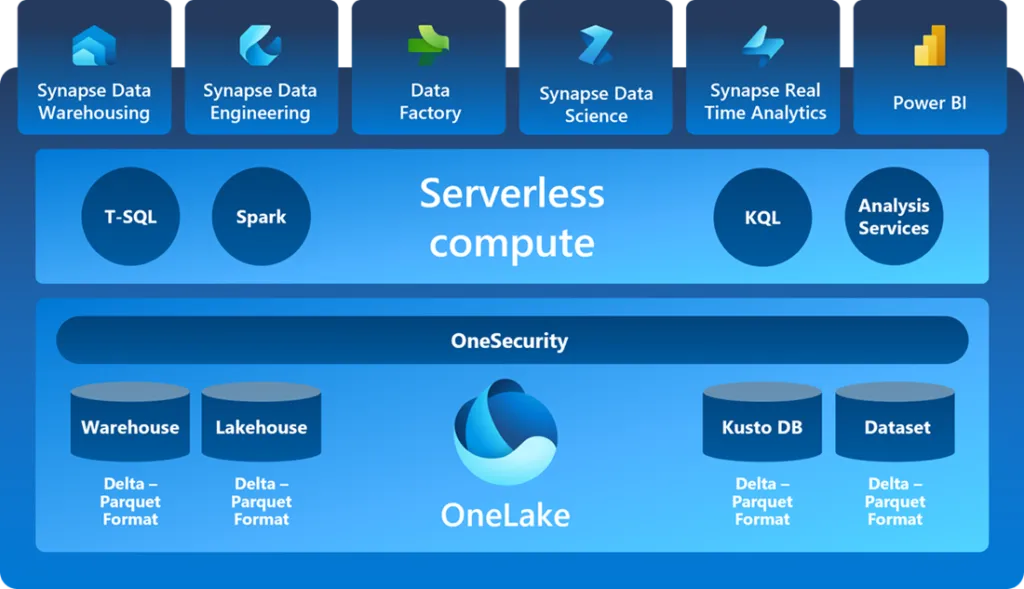 Integrating AI into Microsoft Fabric
AI has permeated nearly every aspect of the digital landscape, and Microsoft Fabric is no exception. Microsoft announced the expansion of copilots (natural language assistants) in nearly every Microsoft product, including Fabric.
Migrating to Fabric: a consideration
The idea of moving to the Fabric platform can be tempting. Still, it is important to remember that Microsoft Fabric is still in the public preview phase. For organizations considering a full transition to this integrated analytics solution, it may be wise to explore new POC usage scenarios.
The future of Microsoft Fabric
As the story of Microsoft Fabric continues to unfold, there is much to explore. From complex workflows to licensing, management and implementation of best practices. Microsoft Fabric promises to support teams in generating, managing and collaborating on data within an organization.
Finally, with its unified architecture, AI integration and intuitive, user-friendly design, Microsoft Fabric offers a compelling proposition for enterprises and developers entering the data-driven world. Whether streamlining data analytics or enhancing an organization's AI capabilities, Fabric seems poised to be a game-changer. We look forward to the future with Microsoft Fabric.
The latest news about Microsoft 365 and Teams in your mailbox every week.