 What is Context IQ and how can it help your business workflow?
Companies have struggled with workforce changes over the past two years. Now that most companies have adapted to remote working and hybrid work realities, it is time to reconstruct the company's workflow to ensure efficiency. Microsoft introduced Context IQ with exactly this goal in mind. So, how can your employees use it to speed up work processes and reduce distractions?
What is Context IQ?
Tech companies have long worked hard to teach bots the importance of context in everything from SEO to auto-corrections. Microsoft went a step further by introducing more advanced contextual skills in Microsoft Editor. This provides the following features:
Presents documents and files when you try to attach or insert a file
Uses Microsoft Graph to recommend available times when you start scheduling a meeting via an Outlook email
Facilitates the use of the @ symbol to make it easy to add someone to an email or tag employees in comments
How does Context IQ help the company's workflow?
Companies have now adopted much more complex operational methods compared to past years. This has disrupted established workflows that managers have created and improved over time. It's time to go back to the drawing board. However, Context IQ also tackled some much older problems workers were struggling with.
The web version of Outlook
In the web version of Outlook, type the @ symbol and based on the context of what you typed, Editor with Context IQ displays the most relevant suggestion. To begin with, Editor with Context IQ will bring up relevant people and files, and over time this will be expanded to include other useful content, such as: suggestions for adding rich content such as maps, places on the web, membership numbers, phone numbers, addresses, Viva Topics, message extensions and more – based on your needs and context.
Word for the web
The same experience is also being rolled out in Word for the Web. Editor with Context IQ can pull relevant people and files directly into your documents, so you can avoid switching context or trying to find the right links to files. Based on what you type into your document, editor using Context IQ will suggest the information you need, when and where you need it , so you can stay in the flow of your work.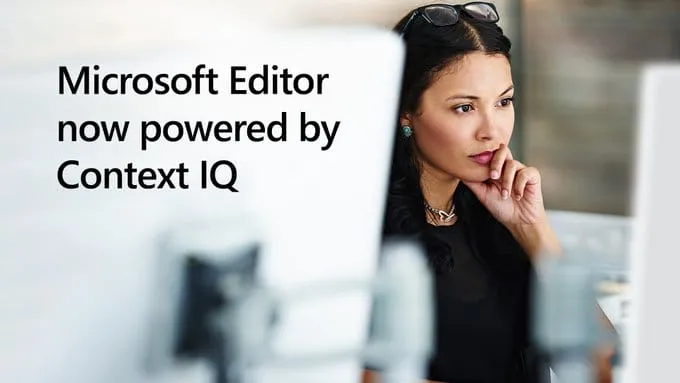 1. Less multitasking
Millions of people will tell you that they work better when they multitask. While this may be true for a select few, for most workers multitasking disrupts workplace efficiency. Forbes estimates that switching between multiple apps during the workday costs 32 days per year in lost productivity. Context IQ reduces the need to search for people, documents and calendars.
2. Fewer interruptions
Forbes reports that when workers suffer from interruptions, it takes about 23 minutes to regain focus and concentration. Employers may think of family phone calls and Facebook notifications, but work itself can have a wealth of distractions. For example, an employee working on the quarterly report may be disrupted by emails or chat notifications. By reducing the need to juggle multiple apps, Context IQ reduces the risk of distraction.
3. Improved connections
Disruption of business workflow often occurs when people miss important messages and document comments because other employees forget to tag them. Because Context IQ reduces friction in the process of adding and tagging people, employees are less likely to make this mistake. This reduces miscommunication and missed communication, which improves productivity across the board.
4. Better schedule management
Organizing meetings via e-mail is not always ideal, but sometimes necessary. Reaching out to determine if one is needed and what their availability looks like is critical to success. The fact that Context IQ makes it easy to determine availability for employees reduces the chance that people will have to double-book themselves or switch apps to check calendars.
Why is context IQ and business workflow improvement important?
Chromebooks are among the cheapest computers on the market today. Nevertheless, they are often packed with specifications that consumers only get from high-end Macs and Windows devices. Yet they do not have the same capabilities as their competitors and lack many traditional PC features.
Nevertheless, organizations looking to cut costs and have very specific needs have adopted Chromebooks as part of their business models. These laptops are made specifically for cloud computing. So as the technology market moves into a cloud computing era, they have become solid competitors to Windows and Mac.
In 2021, BBC even reported that Chromebooks were overtaking the Mac market for the first time. Chromebook market share is now going to compete with Windows. This has forced Windows to improve its cloud computing offerings, which is great news for its users.
By introducing more cloud computing features into Microsoft Editor, companies that need Office products can leverage the productivity tools competitors use on Chromebooks. This not only improves Windows' competitive advantage, but also the companies that depend on the operating system and its products.
Source: cloudficient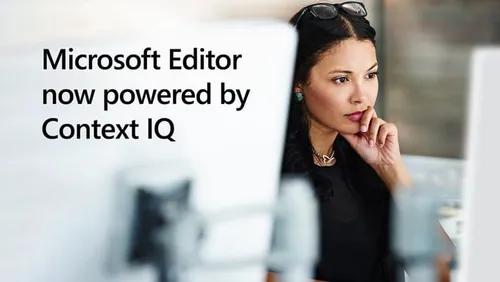 The latest news about Microsoft 365 and Teams in your mailbox every week.