 What exactly is Microsoft Viva Connections?
Microsoft has come out with a much more powerful tool that gives the employee almost 100% freedom over the materials they want to use to push their career to newer heights. It is called Viva Connections and is discussed further in this blog.
What exactly is Viva Connections?
It can be seen as a tool, one that resides entirely within Microsoft Teams. From here, an employee can connect with just about any other colleague, even external contractors. This gives them a chance to see firsthand how their other colleagues work and operate, especially in different departments. This is considered especially useful for project management teams because it serves as a starting point to bring out different ideas for innovation from literally different walks of life.
As just mentioned, the employee can collect just about any kind or type of content he wants to keep to help him achieve his goals and objectives daily. They can even create their own channels in which they can communicate with other colleagues, whether by voice, video or chat. Viva Connections is also designed to be added to SharePoint, Yammer and Stream.
The main components of Viva Connections
It consists of three different components, which are as follows:
This functionality allows your employee to carefully set their experiences (mainly the materials they have learned from the online resources) in a composite manner, using what is known as "Dashboard Cards." In a sense, these can be seen as a kind of mobile app that takes you where you need to go. Although it is used to bookmark useful resources, it is also usually used as a means of letting the employee know what tasks need to be completed in a certain time frame. This actually increases employee productivity. The main reason for this is that the employee does not have to browse through network folders of resources to find the materials he needs to access. On the contrary, all these resources are linked to a particular card and the worker just has to click on them. But it is important to keep in mind that this process is not currently automated. Before an employee is given a project to work on, it is that specific person's duty to find those resources and link them to the Dashboard Card from there.
Currently, this component is available on iOS and Android devices, as well as desktop computers. With the latter, it can be integrated as a subset of SharePoint, allowing even faster access to needed resources.
An example of the Dashboard is shown below: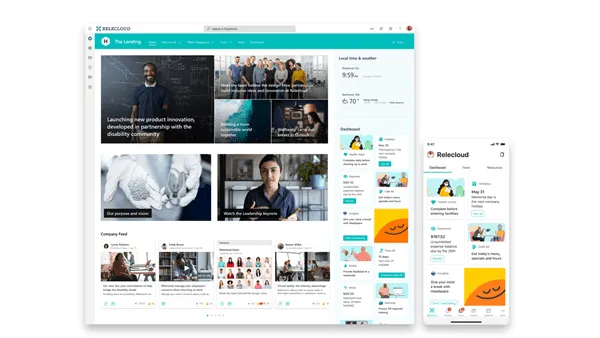 (SOURCE: 1).
Another example of a Dashboard is shown below: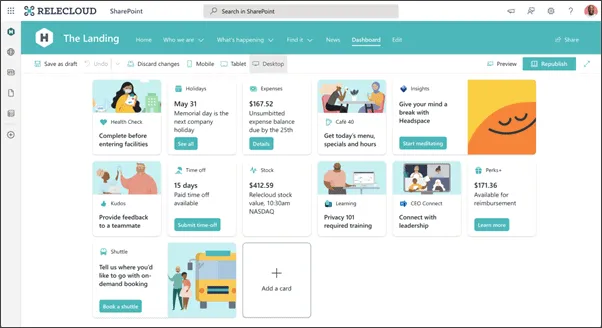 (SOURCE: 1).
The Viva Connections Feed:
This is almost similar to the feeds used in Twitter and LinkedIn. But the only difference here is that the employee will not see outside events (unless they enable this option), they only see what is happening in their company. It can also be thought of as the company's intranet, but the content is rolling in nature and updated in real time. After approval with his manager, an employee can even share something personal that happens in his life, which can have an impact on the company. This news feed functionality also retrieves filtered and selected content from the various SharePoint sites in the company, Yammer and Stream.
The Viva Connections Resources:
This is the section where all links to resources are stored. This is not to be confused with the links in the Dashboard. These are the ones you selected individually. But from the resources functionality, your manager can insert links that he thinks could be useful to you and your colleagues. This component is available on desktops and wireless devices.
This is illustrated below: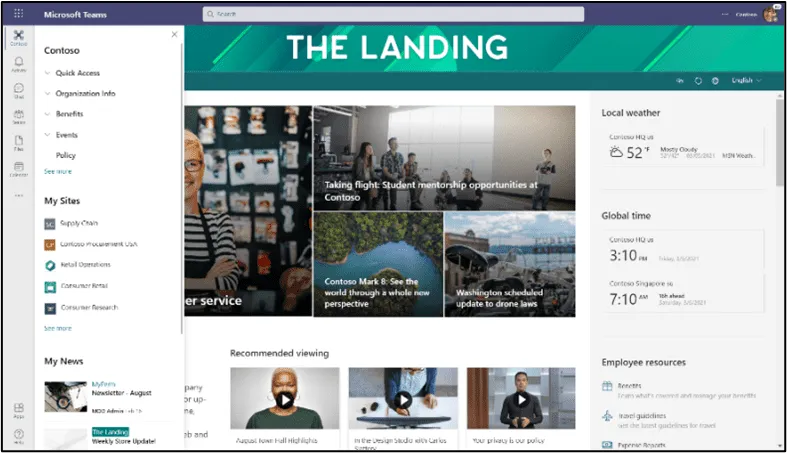 (SOURCE: 1).
Setting up and starting Viva Connections
Use these step-by-step instructions to help you set up and launch Viva Connections on desktop and mobile devices using currently available features to create an engaging user experience.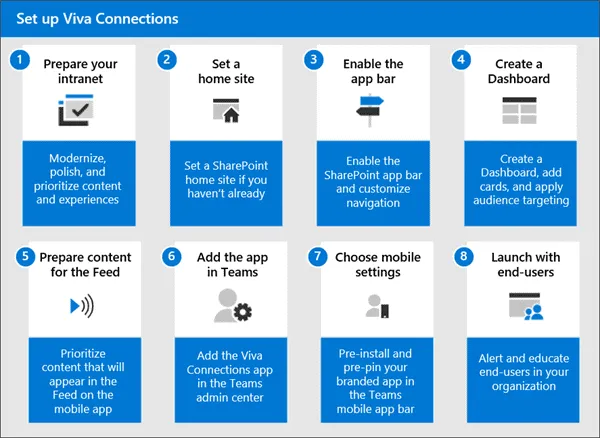 Conclusions
Overall, this blog has discussed the various ways Viva Connections can help increase employee productivity in your company. Best of all, it's free, but you must first have a SharePoint license to get it.
Source: microsoft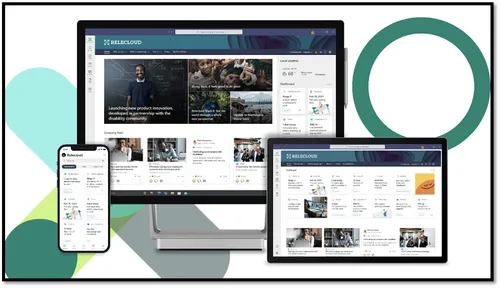 The latest news about Microsoft 365 and Teams in your mailbox every week.