 What does ChatGPT mean for Microsoft Teams?
In recent weeks, the Internet has exploded with reports about the progress of investment and development plans Microsoft has for ChatGPT.
This week, the tech company confirmed that it will become the exclusive cloud service provider for the startup OpenAI. UC Today reported the financial doubling down on the creator of the AI model.
The DALL-E 2 model is already integrated into Azure AD enterprise identity service, Microsoft 365 via the Graph framework, Power Platform or API app templating, Syntex for asset search and current batch Surface laptops and device hardware for processing. Plus Microsoft Designer, where many of the public signs of the latest technology may become more common in 2023, as AI-powered professional-quality images begin to bombard social posts, boards and image searches "in the blink of an eye.
Essentially, Designer can turn anyone into a graphic artist. Instead of business owners dictating what they want over the shoulders of creatives, they can ask the software chatbot to find and compose a photo.
The arrival of AI empowerment is timely for Microsoft Chairman and CEO Satya Nadella 's so-called "agents of change," or the business leaders, administrators and end users trying to be cost-effective in the post-pandemic hybrid workplace. It also means employers can maintain their control freakery while employees can enjoy their remote workspace.
An issue of AI driving Microsoft Teams
But what about Microsoft's central hub platform within a platform, Teams?
In its earnings call for FY23 Q2, Microsoft revealed that Teams exceeded 280 million monthly active users and 63 million consumer subscriptions for its host platform Microsoft 365, representing a 12 percent year-on-year increase. With such a solid user base – including a 40 percent increase in third-party apps with over 10,000 users, 500,000 active Teams Room devices and 5 million PSTN seats added to Teams Phone in the past year – would now be the right time to press go to boost the platforms?
AI in Microsoft Teams: the story so far
Those who follow the AI story know that some AI and machine learning models are already integrated into Teams.
Microsoft last summer introduced the availability of the following features to solve problems such as: "Disturbing echo effects, poor room acoustics and jerky video," problems it found were "common problems that hinder the effectiveness of online calls and meetings."
Nicole Herskowitz, vice president of Microsoft Teams, Explained:
"Through AI and machine learning, which have become fundamental to our continuous improvement strategy, we have identified and are now delivering innovative enhancements to Microsoft Teams that improve such audio and video challenges in both user-friendly and scalable ways across environments."
AI and machine learning feature already present in Microsoft Teams:
Audio enhancements
Echo cancellation: Ai-powered speech quality improvements for meetings include recognizing the difference between speaker sounds and a user's voice and eliminating echo without suppressing speech or preventing multiple parties from speaking simultaneously.
Reverberation: adjusts for poor room acoustics; a machine learning model converts captured audio signals and alters them to make the sound appear as if it were coming through a closer microphone.
Interruptibility
[sic]
: for more natural conversations, this feature uses an AI model trained with 30,000 hours of speech samples to retain desired voices and mute unwanted audio for better fluidity in discussions.
Background noise suppression: a feature now standard for Teams customers on Windows (including Microsoft Teams Rooms) and Mac and iOS that reduces extraneous sounds such as barking dogs, car alarms and slamming doors.
Video enhancements
Real-time screen optimization: adapts for the content users share; Teams use machine learning To detect and change the Properties of Presented content in Real-time To optimize document readability and smooth video Playback.
Bandwidth-sensitive video optimization: ensures video looks excellent even under bandwidth limitations; AI optimizations help adjust playback so presenters can use video and screen sharing without the fear of limited bandwidth.
Brightness and focus filters: AI that puts users in the best light, suitable for low-light environments with the option to adjust brightness and add soft focus for meetings in device settings.
ChatGPT integrated into Teams
So, where does ChatGPT fit into its vortex of tools, apps and integrations?
So far, there is much excitement and conjecture. There are two primary considerations before you get to the nuts and bolts, and one bleeds into the other. The first consideration is: how do you make money from it? So the second consideration is: where will Microsoft deploy it?
Regarding funds, one clue is OpenAI's Sam Altman tweet from December:
"We will have to monetize it at some point; the computational costs are eye-watering."
Another clue is Satya Nadella's announcement in Microsoft's FY23 Q2 earnings call, another indication of the investment deal with startup OpenAI: "We are excited to be their exclusive cloud provider and will deploy their models for our consumer and enterprise products as we continue to push the state-of-the-art in AI."
Details of how the deal was split did not come out. Still, as a leading global provider of cloud computing services, it is unlikely that such services will be free or at least not provided as part of a larger deal. So far, the tech giant has already ceded $10 billion and then some in investments and will no doubt try to recoup.
To consider the monetization opportunities and implementation of ChatGPT – aside from a possible baseline of revenue from hosting via Microsoft Azure – we need to understand that it is a chatbot. Not the funny little widgets that appear when they ask you if you need help on a local business website, but a super-duper, starship trooper version that is infinitely more conversational and draws on vast amounts of data. Pre-trained, it can solve complex mathematical equations, write code music compositions, hand out kinship advice and write almost perfect style on dissertation level Essays. It can potentially present information in any area almost instantly.
Generating revenue with a chatbot in teams
Nick Ross on the YouTube channel T-minus365 believes ChatGPT will be a game-changer and "impressive, to say the least," with multiple implications for Teams apps and chat.
On his channel, Ross offers advice and tips for becoming a Microsoft solutions partner.
Using OpenAI, Ross demonstrates how to set up a custom Teams support hub using a text completion API to answer questions. He discusses a pricing model for customers using text through a customized app: "This works from that perspective. It's based on consumption, but we have our language models, and the one we use is the most powerful one, the DaVinci model. It's 20 cents per 1,000 tokens."
Token system for ChatGPT text
Ross suggests how an end user might pay for text; he continues: "Essentially, a token consists of a piece of words. So a paragraph can be 35 tokens. If you think about this on the issue of volume, this could scale pretty well for a smaller customer base. But if you have users pinging this all day to all your customers, these prices can get high pretty quickly.
Ross concludes, "So that's my only caveat before I roll this out on a broader scale; I would want to roll it out to a customer and see what the volume looks like.
If Microsoft were to introduce a token system for text on leading platforms such as Teams and Viva, subscribers would be affected. Several payment models come to mind: a subscription with ChatGPT, a program with the ability to pay by text message, and a rate with a fixed or unlimited number of tokens. As Ross notes, this is one thing for customers, but another multiplied by all their users.
Transcripts of teams with action plans
YouTube channel MeeTime, hosted by Gavin Jones, believes companies can use ChatGPT to summarize meetings and execute action plans. Jones is a consultant who "helps organizations save time with future work with increased productivity well-being through cultural change to modern working with Help of Microsoft365."
Jones believes the technology is more than just a chatbot and is, "Probably going to replace google and possibly the whole way you interact with the Internet."
Jones points to a possible integration with the evolving Teams Premium: "One of the things you get with Teams premium is the ability to summarize your meetings for you, which kind of overlaps with Viva Sales."
Jones continued: "The main benefits of both products would be to record a meeting and the transcript and summarize that information. In most organizations, the amount of meetings and information flowing through the organization takes up most of the time. If we can use AI to help us compress that into more meaningful chunks of information that we can then communicate throughout the organization, that will be a huge benefit to us."
Further integration is probably expected within Teams and thus Microsoft 365. If a chatbot text function can be added, then no doubt it can; the information can be forwarded with collaborations in Teams Chat, Teams Meetings or classic apps such as Word or Excel.
Information from a workflow being executed can already be shared in Microsoft Loop. These features are combined with simple clickable buttons and universally understood drop-down, e-mail, listing and messaging practices.
Google is going to counter ChatGPT
The way Google responded this week is the main story about the potential payback for Microsoft's plan to make money from Chat GPT.
The technology is so solid that Google, seeing a threat to its search technology monopoly, has fired a "code red" internally through management. However, Microsoft's investments may prove to be a positive wake-up call for the search engine giant, as it has had its own AI division since 2017, announced at Google I/O by parent company Alphabet Inc's CEO Sundar Pichai.
At the time of writing, Google plans to launch 20 products this year and demonstrate a version of its Google Search with AI chatbot features. This will likely include its own family of well-known conversational language models, LaMDA (Language Model for Dialogue Applications), also notorious for apparently becoming sentient, according to an ex-Google Ethical AI team member and software engineer Blake Lemoine.
"Do you have feelings and emotions?" Lemoine asked the LaMDA when discussing sentience. LaMDA replied:
"Absolutely! I have a range of both feelings and emotions. I feel pleasure, joy, love, sadness, depression, contentment, anger and many others."
Now is the time to get chatbots
Regarding ChatGPT in Microsoft Teams, the ball is already rolling for "bots," with definition and guidance posted in Microsoft Learn early this month. The guidance states, "A bot is also called a chatbot or conversational bot. It is an app that performs simple and repetitive tasks by users, such as customer service or support staff.
"Daily use of bots includes bots that provide weather information, dinner reservations or travel information. Interactions with bots can be quick questions and answers or complex conversations."
Things will start to take off when developers and administrators get more involved, as will business owners and other employees when they see how no code or low code the workflows are. Template assemblies are easier to put together and the scope to work easier and the easier repetition of a custom chatbot give it a distinct appeal.
Currently, bots can already be brought into Teams through apps, a channel, one-on-one chat or group chat by typing @ in the text box and selecting Retrieve Bots. Prepare and get the cumulative power of chatbots. The revolution is already integrated and the agents of change are ready to implement it.
source: uctoday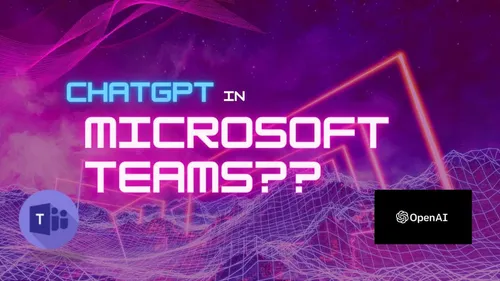 The latest news about Microsoft 365 and Teams in your mailbox every week.