 Unlock hybrid work with Microsoft Teams-Rooms
Over the past two years, Microsoft Teams has grown by leaps and bounds, both in its capabilities and in its popularity with larger organizations. We explore how it can help address the challenges of hybrid working in the enterprise
In recent times, we have all witnessed an incredible amount of change in how people and organizations work, and more importantly in how they view work. It is clear that we are on the eve of dramatic changes in our work environment, and organizations are quickly trying to realign themselves to prepare for a very different work dynamic than what they have experienced in the past.
The video collaboration space has also seen a huge shift – with kids going online, organizations making video accessible to all teams and webinars and events moving to the virtual plane. A major beneficiary of this shift is Microsoft Teams, which has grown rapidly as the world has embraced video and unified communications (UC) technology. Businesses in particular have switched to Microsoft Teams because the features have evolved significantly, allowing the Use of the Teams platform not only on personal devices, but also in Microsoft Teams Rooms (MTRs).
As organizations consider a post-pandemic transition to a hybrid work scenario, Microsoft Teams Rooms are poised to play an important role in enabling and making productive the hybrid workplace of the future.
---
The future of work is hybrid
There is a fair amount of consensus that in recent months there has been a dramatic shift in how we view work and how we prefer to work. While technology had been rapidly evolving for some time to support newer ways of working, the pandemic introduced organizations, teams and employees worldwide to the experience of working remotely.
According to
Gartner research
says "55% of employees and 65% of IT workers say whether or not they can work flexibly will affect whether they stay in their jobs."
Forbes cites microsoft's 2022 Work Trends Index
estimates that "53% of workers would prioritize health and well-being over work. 47% are more likely to put family and their personal lives first."
Clearly, the rapid shift to remote working during the pandemic gave workers and management teams an entirely new perspective on what work could be like. The first benefits most people discovered was the advantage of flexibility in where and when they work. Many of us realized that there were ways to be productive at work, even without being present in the office. Others realized the benefits of not having to commute to work.
Leaders and organizations begin the process of understanding the changes in how their teams and organizations want to work and collaborate in the future. It has become quite clear that the future of work must be flexible to support different types of work preferences and philosophies.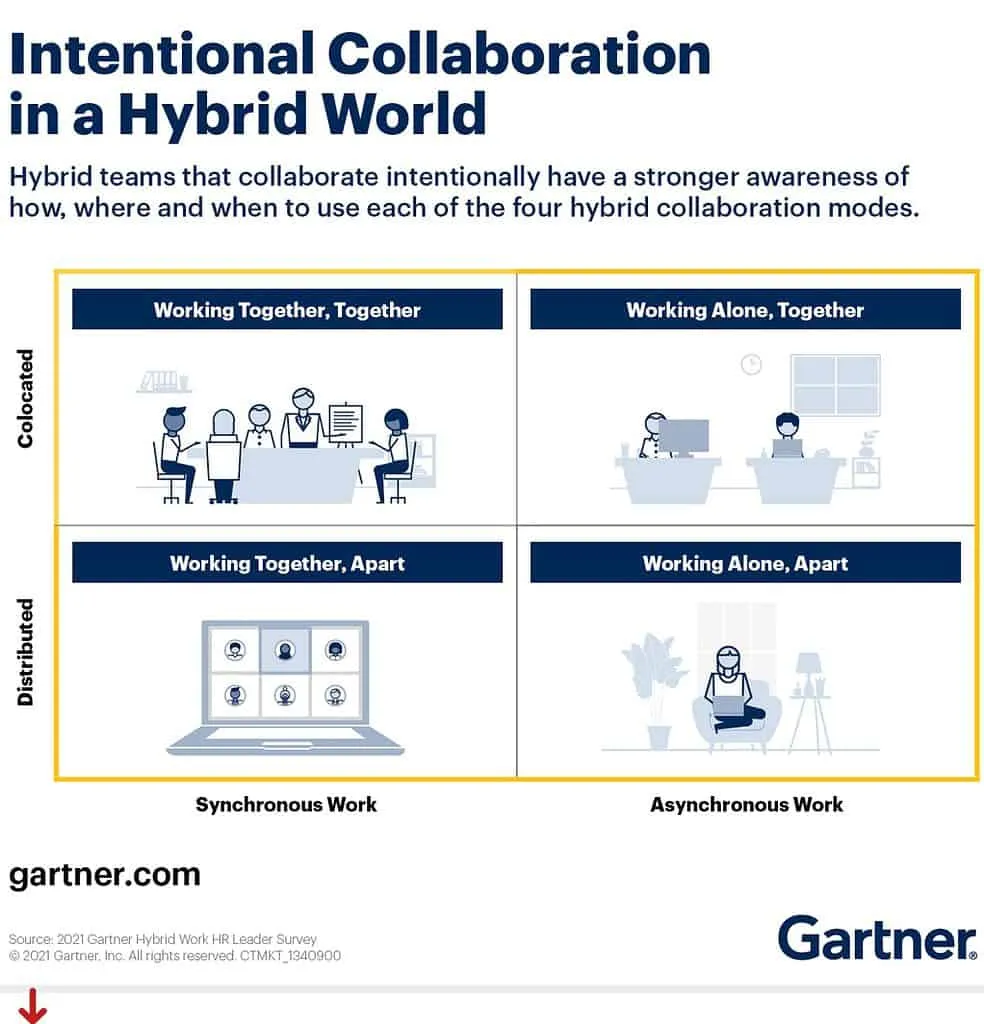 Although we are still in the early stages of understanding what the future of work may look like, there are a few things that already seem clear.
Individual preferences matter – Employees have new expectations about what their work lives should be like, and organizations must be flexible and ensure that individual concerns and preferences are considered when creating the new work environment
Allow flexible work arrangements – Organizations must move to a new kind of work model that allows individuals and teams much more flexibility about WHERE they work, as well as in WHEN they work and collaborate. This means allowing both synchronous and asynchronous collaboration to team members
Help employees be more productive – A longer break from commuting has made many people (not all) realize that the long commute is something they don't want to go back to. Organizations need to understand this and help them become more purposeful, productive, agile and flexible.
Different spaces enable different types of work – Different types of work require different types of interactions between teams. Teams must be able to switch smoothly between different virtual and real workspaces depending on whether they need to communicate, coordinate or focus on individual work
Technology and workflows must both evolve – The hybrid work environment requires the organization to redesign workspaces to new parameters, but also requires a redesign of organizational workflows. New hybrid processes and practices must be equitable and fair to workers regardless of their model or location of work.
When building a new hybrid work infrastructure, business leaders should keep all these insights in mind and choose a solution that is powerful and flexible. Responding to diverse requirements is essential if they are to effectively bridge the gap between physical and digital workplaces.
---
How Microsoft Teams Rooms supports hybrid working
While several collaboration platforms offer capable hybrid work solutions to companies around the world, Microsoft Teams Rooms has rapidly evolved to provide many of the capabilities that set it apart. This cloud-driven platform not only has powerful virtual work capabilities, but also provides a robust and flexible solution for physical meeting rooms that remain important to organizations.
Equitable and inclusive environment for all participants – Microsoft Teams Rooms are designed to provide a user-friendly and inclusive meeting space where everyone (remote or in-person) can fully participate and engage. Innovative layouts like the front row allow room participants to see remote colleagues as if they were in the same room. They can also view people, content and chat simultaneously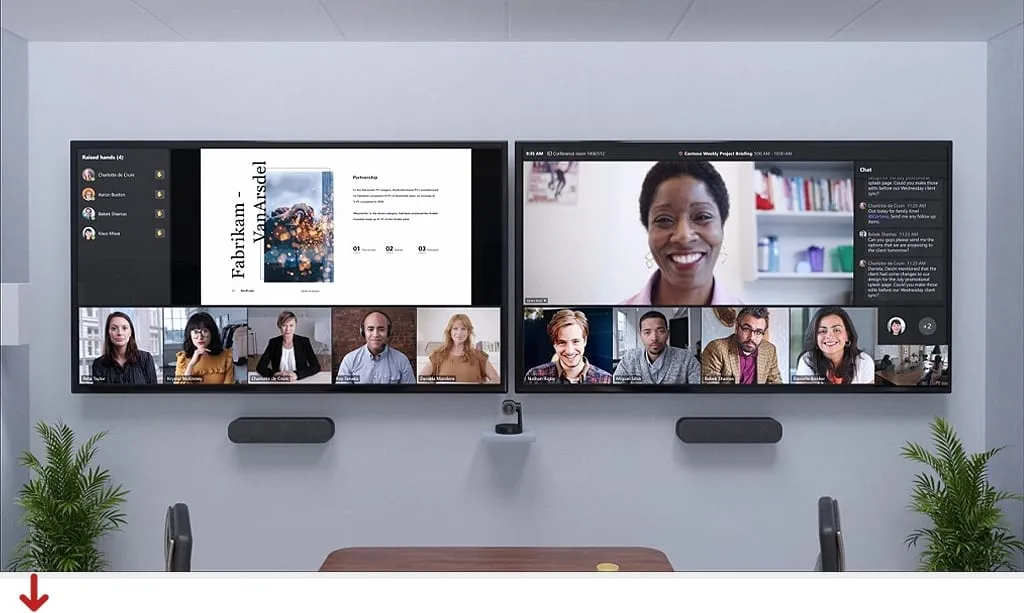 Intelligent audio and video – Advanced camera capabilities combined with AI help everyone be seen and heard wherever they are. Remote participants feel like they are in the same room thanks to high-quality audio and video and automatic framing that focuses on the active speaker.
Intuitive and consistent experience, always – MTRs bring one consistent Microsoft Teams experience to any space, from a private workspace to a large training room. One-touch calling, wireless connectivity, room scheduling and calendar integration ensure that meetings always start on time.
Flexible hardware for any room size or type – Support for multiple screens, cameras and microphones and speakers means everyone can be seen, heard and share content with equal ease. This helps everyone feel closer and more involved so they can fully cooperate. Smooth integration between all hardware devices in the room is possible with certified Microsoft Teams Rooms hardware
---
Reinventing the office with Microsoft Teams Rooms
As organizations navigate the many challenges that a hybrid work environment can create, it is extremely important that they have the collaboration tools to succeed. The office remains an important element for organizations, but must be rethought in terms of how it can support different types of workflows and employee preferences.
Bridging the gap in experiences while collaborating from digital and physical workspaces is therefore critical. In this context, Microsoft Teams Rooms can provide a powerful, inclusive and balanced solution to physical meeting rooms, one that helps hybrid teams feel more connected and engaged.
Source: actis.co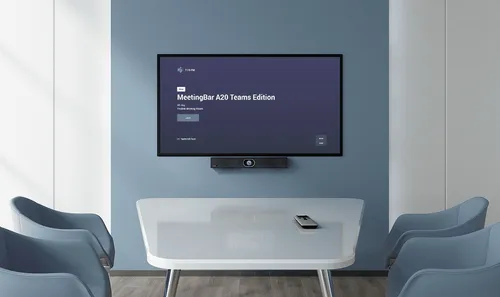 The latest news about Microsoft 365 and Teams in your mailbox every week.