 Microsoft's new Fluid Office documents come to life in Teams, OneNote and more
The biggest change to Office in decades begins to roll out
The biggest change to Microsoft's Office documents in decades will soon come to life, as the company's Fluid framework arrives in Microsoft Teams, OneNote, Outlook and Whiteboard. Microsoft first unveiled Fluid last year and showed how the framework lets blocks of Office content live independently on the Internet. That idea is now becoming a reality, with collaborative content that can be copied, pasted and shared with others.
Instead of tables, charts and lists that are static and tied to specific documents, Fluid components are collaborative modules that exist across applications. They will appear first in Microsoft Teams this summer, embeddable in meetings and chats.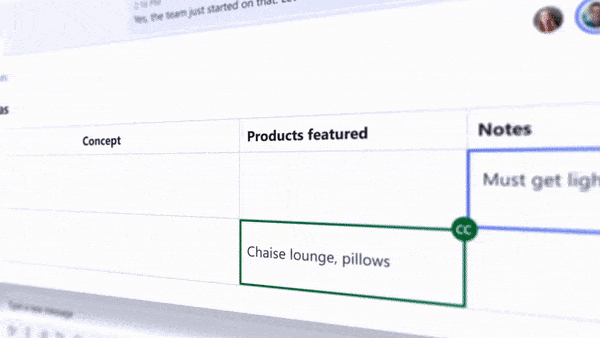 The launch of Fluid documents coincides with the return of employees to their offices and the emergence of a new hybrid work experience. "We were excited to go hard and fast with Fluid, and then the pandemic hit," says Jared Spataro, head of Microsoft 365, in an interview with The Verge. "So we've put a lot of our energy largely on Teams and we see Teams as the scaffolding that creates the connection, but as we move back to hybrid, we increasingly believe that we need more innovation in what I call the canvas that gets collaboration done."
What Microsoft has created with Fluid is the biggest change to Office in decades. While Fluid seemed like a great forward-looking concept during its unveiling last year, watching Microsoft demonstrate it this week has really highlighted how transformative this could be.
Every Microsoft Teams meeting will soon come with a built-in note-taking experience that is collaborative. Notes are displayed in a Teams meeting or in an Outlook calendar and everyone on the invitation can just start typing in real time. When you add a task, it is immediately synchronized with your other tasks in Microsoft 365 and the meeting notes are automatically synchronized with your Outlook calendar, where you can also edit them in real time.
"We want the collaboration to be able to start before the meeting starts, so as soon as the invitation goes out," explains Ron Pessner, a director of program management who works on Fluid at Microsoft. Because the meeting notes in this particular example are live and real-time, you can even copy them to an app like OneNote and still see everyone making edits to them.
This living fluid component has the potential to change the way everyone gets work done in Microsoft Teams and Office. It is impressively fast, with no synchronization time, just like Google Documents. Microsoft has had similar collaboration tools in Office for a while, but they are limited to static documents and nothing at this level of freedom.
"We are going to launch the components in Teams this summer," says Pessner. The meeting notes experience will be available in preview later this year, along with some tests integrating it into the desktop version of Outlook. It is likely that when we see Fluid components being rolled out, they will first appear in Teams and on Office's web components before making their way to the desktop.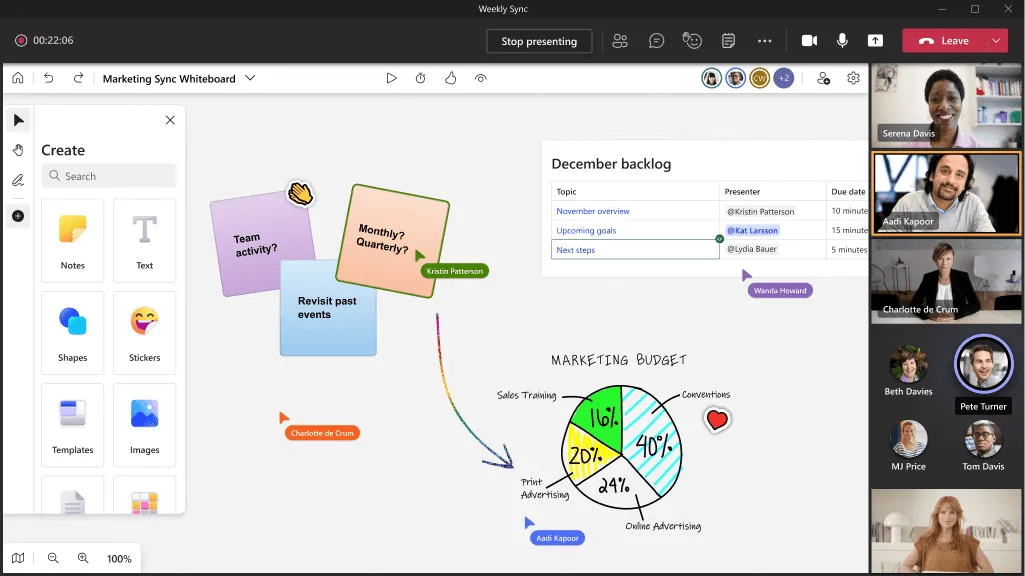 Microsoft is also transforming its Whiteboard app into a canvas to host Fluid components. Whiteboard has long existed as Microsoft's first major collaboration tool, and this summer it is being overhauled with the help of Fluid.
New collaboration cursors appear in Whiteboard so you can see colleagues' additions to a document in real time. There's even a new virtual laser pointer you can use to grab people's attention, or reaction stickers to make the Whiteboard canvas feel a little more alive.
Fluid components such as tables or task lists can also be embedded in Whiteboard, and the entire app now looks and feels the same across all devices and platforms. With Whiteboard, you could almost use the app as a dashboard to see how colleagues are editing Fluid components in real time.
This is just the beginning of Fluid making its way into Microsoft 365, and we will no doubt see more over the course of this year and beyond. It will be particularly interesting to see how Microsoft integrates Fluid more deeply into both Teams and Outlook, the main communication tools used by companies that rely on the Office suite. If Microsoft gets the integration of Fluid right, it will forever change the way documents are created, shared and, ultimately, how work gets done.
Source: theverge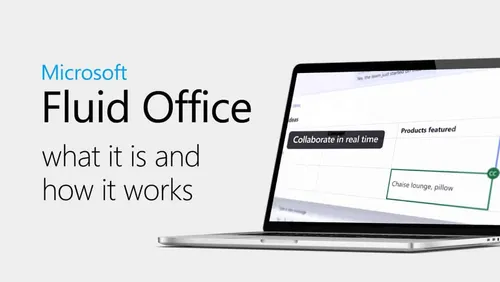 The latest news about Microsoft 365 and Teams in your mailbox every week.