 Microsoft Purview: Secure data, manage risk and improve compliance
The introduction of Microsoft Purview represents Microsoft's efforts to ensure that all critical information shared by businesses remains both accessible and secure . We live in an exciting and innovative time where interoperability between Microsoft platforms has enabled collaboration spaces for businesses to share, store and create information anywhere in the world. With the rise of shared critical information comes the need to improve processes around data governance and compliance.
This article discusses the importance of Microsoft Purview, highlights what it is, what it can do for your business and how it represents the importance of improving data management and compliance processes in today's era of hybrid working.
THE SHARED INTEREST IN DATA ACCESSIBILITY AND SECURITY
As companies adapt to the needs of businesses adapting to a hybrid work model, they have developed services to make sharing digital information as easy as possible. In addition, Microsoft is also taking steps to ensure that all sensitive information remains organized and secure. The introduction of Microsoft Purview is the next big step in securing your organization's most important asset: your data.
WHAT IS MICROSOFT PURVIEW?
Microsoft Purview brings together the former Azure Purview and the former Microsoft 365 Compliance portfolio under one umbrella. With this comprehensive solution, organizations can improve data governance and compliance processes by:
Increasing visibility of data stored across the company.
Ensure accessibility to all data, including security and options to address potential risks.
Improve the security of all data stored on Microsoft's platforms.
Optimizing data governance by ensuring information architecture meets all compliance requirements.
KEY FEATURES OF MICROSOFT PURVIEW
With the combined functionality of Azure Purview and Microsoft 365 Compliance, Microsoft Purview manages, protects and manages data in a more comprehensive and simple way. Here are the main features:
Data availability and data loss prevention:
To ensure that all employees have access to data loss prevention (DLP) services, it expanded DLP capabilities for macOS users so that an employee's device does not prevent them from adhering to proper data management and compliance procedures.
There is a comprehensive catalog of data classification types, with more than 50 new data classifications, so that all data can be correctly identified, stored and shared based on sensitivity, importance or lifecycle stage.
Real-time encryption of co-authored documents:
Because it is important to address security needs when multiple devices access the same document simultaneously, Microsoft Purview ensures both efficiency and security by enabling employees to write encrypted documents together in real time.
Data management and compliance depend on correctly identifying data at each stage of the life cycle. For this reason, there are enhanced capabilities to automatically label documents that have reached the end of a specific retention period.
Microsoft Purview includes enhanced analysis of potential risks in an organization's data. The risk detection and investigation feature highlights data management concerns and also offers suggestions for actionable solutions to these risks.
Code of Conduct Analysis:
There is a communication compliance feature that can detect potential words, phrases or images that may violate code of conduct rules, including harassing or threatening language, adult content and sensitive information shared with an unauthorized person. Users have access to compliance detection features that help prevent violations or non-compliance.
Microsoft Purview is another addition to an already impressive roster of interoperable and collaborative Microsoft platforms.
Source: elantis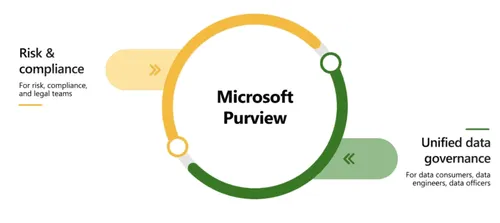 The latest news about Microsoft 365 and Teams in your mailbox every week.