 Microsoft Purview: Optimize your Data Governance
In today's business world, data and insights from it are at the heart of all decisions. Companies are constantly looking for ways to maximize the value of their data. However, identifying and tracking data scattered across spreadsheets and folders is a challenge that many organizations have yet to overcome.
The Problem of Unused Data
According to a McKinsey survey, organizations spend about 30% of their time on non-value-added tasks because of poor data. This leads to a significant loss of productivity.
Introducing Microsoft Purview
Formerly known as Azure Preview, Microsoft Purview is the solution for data governance. It effortlessly integrates Azure Purview and Microsoft 365 compliance solutions and services. This gives companies a holistic view of their data landscape, maximizing the value of data.
Core features of Microsoft Purview
With Microsoft Purview, data analysts can access reliable data for critical business decisions. Highlights of the tool are:
Integrated data directory for efficient management
Insight into location and movement of sensitive data
Business and technical terms glossary
Real-time data sharing and easy access provisioning
Built-in Security and Compliance
Microsoft has invested heavily in cybersecurity, making Purview one of the most secure data governance solutions. It provides companies with the tools for a complete data map, data classification and end-to-end descent.
Cloud Data Management
One of the key benefits of Purview is effective cloud data management. With Purview, administrators can effectively label, track and manage their data in the cloud and on-premises.
Collaboration with ALTA-ICT
As a trusted service provider for Microsoft's solutions, ALTA-ICT offers expertise in configuring Purview. We help companies understand their data landscape and maximize its value.
Want to Know More?
Visit our website at alta-ict.co.uk/contact to learn more about Microsoft Purview and how it can transform your organization.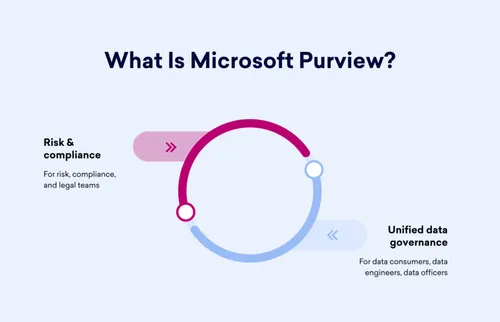 The latest news about Microsoft 365 and Teams in your mailbox every week.