 Microsoft OneDrive vs SharePoint, what's the difference?
This is a common question that often comes up during calls to prospects and during SharePoint workshops. What is the difference between Microsoft OneDrive and SharePoint? In short, think of OneDrive as your desk and SharePoint as your filing cabinet. You would not leave personal files on your desk for everyone to see, nor would you store collaborative documents where no one can access them.
OneDrive
Simply put, this is a tool used to store, backup and share files in the cloud. It provides an alternative, more secure place to store documents, rather than your desktop or an external storage device. Although OneDrive allows you to share files in the same way as SharePoint, it is mostly used to store personal files that only you want access to.
Storing personal files in OneDrive means that with Internet access, you can access all your files and thus eliminate the risk of losing data due to hardware failure or the possibility of misplacing an external storage device. If you want to store files in both OneDrive and SharePoint, you can sync them seamlessly with Microsoft.
SharePoint
SharePoint is aimed primarily at businesses and is essentially a document management system (DMS) and collaboration tool. Functionally, it behaves like a Web site and allows companies to organize their files by setting up custom "pages. SharePoint can become your company's hub and is the central point for all employees to access information such as company policies, training documents, standard operating procedures, payroll information and much more. As we all move toward green initiatives, SharePoint has the potential to enable your business to become virtually paperless and reduce your carbon footprint.
SharePoint also encourages teams to collaborate on projects, allowing them to upload to SharePoint instead of siloing information. Employees can then share, view and modify documents in real time.
Source: chalkline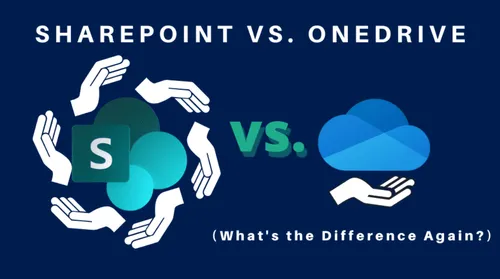 The latest news about Microsoft 365 and Teams in your mailbox every week.