 Microsoft Forms vs Google Forms
If you need to collect data, one of the easiest ways to do so is through an online survey creation tool. Microsoft and Google Forms are two of the most popular choices for those who want to create surveys or quizzes, and each works well in both professional and educational environments.
Microsoft Forms is part of the Microsoft 365 suite and is a solid choice if you already use other Microsoft products such as Word or Excel. It integrates well with these programs, and data collected through Forms can be easily exported to Excel for further analysis.
Google Forms is a user-friendly solution with multiple question formats, the ability to add images and videos, and themes to customize the look of your survey. It also integrates with other Google products such as Spreadsheets (for data analysis) and Documents (for creating surveys from scratch).
So which form builder should you consider using?
Below we compare Microsoft Forms and Google Forms on features, ease of use and price to help you decide.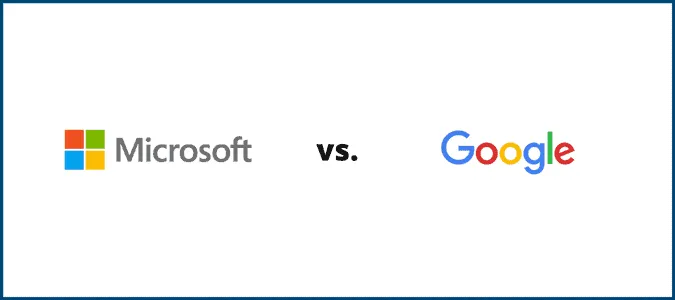 Microsoft Forms compared to Google Forms
Form builders have many applications: professors use them to create quizzes, students use them to conduct surveys, and companies use them to collect data and feedback from customers. They are also useful for collecting data for research projects or keeping track of RSVPs for events.
Both Microsoft Forms and Google Forms are strong contenders as tools for building forms, but each has its own unique features and benefits.
Microsoft Forms is a free Web-based app that can be accessed on any platform or browser. It is often used in the workplace and in academic settings, but it is also useful for personal use. To get started, all you need is a Microsoft account. If you want access to additional features, such as an increased response limit, you must sign up for a paid Microsoft 365 Personal, Education or Business account.
Unlike Microsoft Forms, Google's form builder offers users several question formats, including linear scale, multiple choice and drop-down list. Like Microsoft Forms, Google Forms branching allows users to move to different sections of the form based on their answers.
Highlights of Microsoft Forms
With Microsoft Forms, you can create surveys, polls and quizzes that are easy to fill out and look great on any device. You can also view results in real time, which is useful if you are conducting a live poll or survey. And if you want to further analyze your data, you can export it to Excel for more detailed analysis.
Compared to Google Spreadsheets, Excel offers more features and options for data analysis. For example, Excel has built-in formulas that can be used to clean up data and offers more charting options.
Microsoft Forms also allows users to create beautiful images and themes to match the look and feel of their brand. And if you need more customization, you can also create dynamic themes with Microsoft Forms, which means your survey will automatically change to match your brand colors, logo and font.
Highlights of Google Forms
Google Forms is a web-based app that can be accessed on any platform or browser. It is free to use and has excellent functionality. As part of G Suite, Forms is easy to use, even if someone hasn't used it before. Being part of the Google ecosystem means a clean and cohesive user interface that will be familiar to almost all users.
Google Forms offers several question types and allows you to create unlimited forms for free. It also features a file upload element, which can be useful if you are conducting a survey for a class or research project.
Google Forms also offers real-time responses, which is useful if you need to keep track of RSVPs for an event. And like Microsoft Forms, data collected through Google Forms can be easily exported to Spreadsheets for further analysis.
Microsoft Forms versus Google Forms: pros and cons
Both Microsoft Forms and Google forms have their advantages and disadvantages. Let's take a closer look at all of them to help you make an informed decision about which is best for your next project.
Where Microsoft Forms shines
Branching Logic Feature: One of the best things about Microsoft Forms is its branching logic feature. This feature allows you to send different respondents to different parts of your form based on their answers to previous answers based on if-then instructions. For example, you can send all respondents who answer "No" to question one to another section of the form designed specifically for them. This helps ensure that all respondents see relevant questions and get the most out of your form. This is also an extremely powerful feature because it allows you to create forms customized for each respondent. And since each respondent sees only relevant questions, you are likely to get more accurate answers.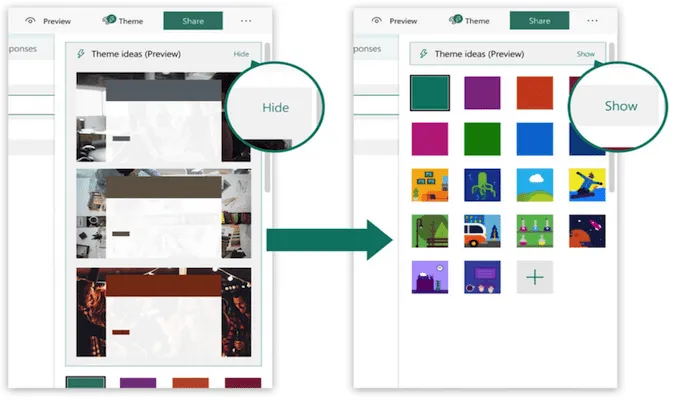 Beautiful themes and graphics: Microsoft Forms comes with many themes and templates that allow users to customize them based on their brand, personal preference or the look of their form. And for those who want even more customization, Microsoft Forms also offers dynamic themes. Dynamic themes allow users to create a theme that can be customized to your brand colors, logo and font. In terms of improving the user experience for respondents, beautiful themes and graphics can also go a long way. For example, a visually appealing survey is more likely to be completed than one that is boring. Microsoft Forms also recommends themes based on the content of your form.
Advanced features: Microsoft Forms also offers several advanced features that can be useful for certain projects. For example, you can password protect your form so that only people with the password can access it. You can also set expiration dates for your forms so that they are only accessible for a certain period of time. These features can come in handy if you are conducting a sensitive survey or want to ensure that respondents see the most current version of your form.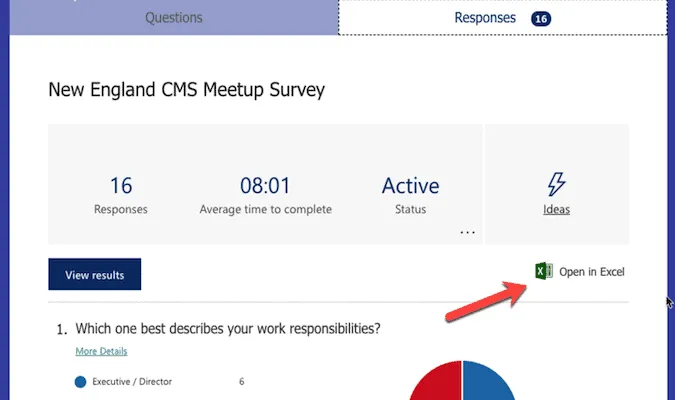 Integration with Excel: Because MS Forms is a Microsoft product, it integrates seamlessly with other Microsoft products, such as Excel. This makes it easy to export your survey results into a format that can be easily analyzed. Excel is a much more robust data analysis tool than Spreadsheets, so this is a clear advantage to Microsoft Forms. Excel's features such as pivot tables and charts, for example, make data analysis much easier. And one feature that sets it apart from Google Spreadsheets is that you can use macros to automate certain tasks, such as data entry.
Free to use with Microsoft Suite: If you already subscribe to Office 365 or have access to Outlook, Office 365 Education, Live or any of the associated business apps, you can use Microsoft Forms at no additional cost.
Insights into actions: The Responses feature allows MS Forms users to see a summary of all responses as they come in. This is a handy feature to get quick feedback on your form. For example, you can see which questions are skipped the most or which answers are selected the most. You can also quickly identify any outliers in your data.
Where Microsoft Forms needs improvement
Lack of collaboration tools: Microsoft Forms is more limited in its ability to allow multiple people to collaborate on a form. For example, you cannot add comments to forms like in Google Documents. This makes it harder to give feedback or make suggestions for improvements. It also makes it harder to keep track of changes because there is no built-in revision history.
No mobile app: Currently, Microsoft Forms does not have a mobile app. This makes it more difficult to access your forms on the go or to fill out a form when you are away from a computer. Google Forms, on the other hand, has a mobile app that allows you to easily access your forms from anywhere.
Limited to 100 questions: You can pay for access to a higher question volume, but the free version of this app limits you to 100 questions per form. This may not be enough for some users, especially those conducting large-scale surveys.
Users cannot save forms for later or update submissions: Once a form is submitted, users cannot go back to edit their responses. This can be frustrating when a user realizes they made a mistake or wants to update their response based on new information. It also means there is a higher risk of incorrect data if users cannot go back and fix their mistakes.
Lack of question formats: Microsoft Forms offers only a limited number of question formats. For example, you cannot add an image to a question like in Google Forms. This can make it harder to create forms that are attractive and visually appealing.
Where Google Forms shines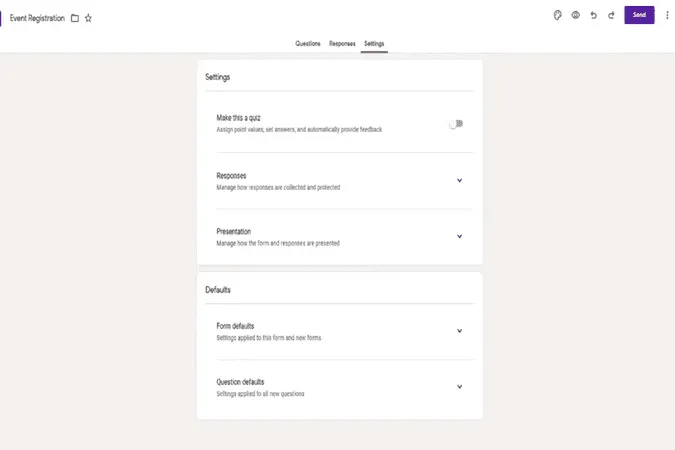 Collaborative and simple: Because it is part of G Suite, users can enjoy all the things that make G Suite great: they can easily collaborate with others, leave comments and track changes. For teams that need to work together to create a survey and collect customer data, Google Forms makes it easy to brainstorm together to create the best possible survey.
Brand awareness: With more than 1.8 billion users, Google Forms is probably more familiar to users than Microsoft Forms. This can make it more user-friendly because users are already familiar with how Google products work. In many cases, your respondents are already Google users, so opening a form and filling it out will be easy for them. If you want to encourage higher response rates, using Google Forms can be somewhat beneficial.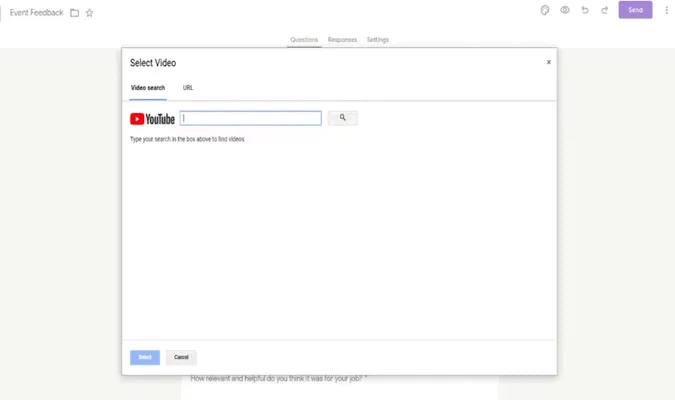 Add images and videos: You can add videos directly from YouTube or images from Google Drive or your computer to make your form more attractive. This can be useful if you want to add a product image or record a video tutorial.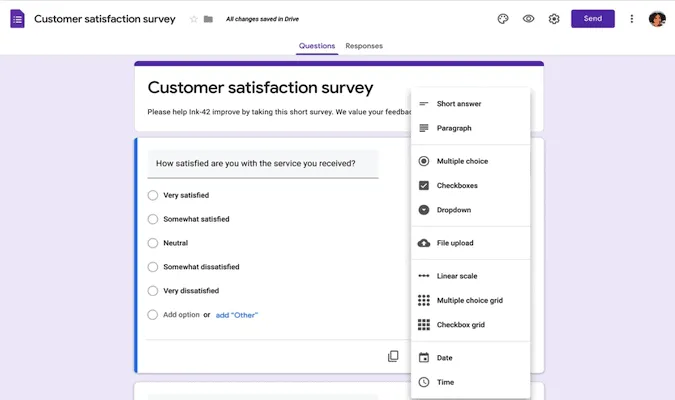 Multiple question formats: Google Forms offers a wide range of question types, including multiple-choice, checkbox, drop-down, and essay questions. It also enables linear scale and grid queries. With this variety, you can create forms that are more attractive and visually appealing. For example, a company might use a grid question to ask customers to rate their satisfaction with various aspects of their service. The answers can help companies better understand their customers' relationships with their products.
Conditional logic: Like Microsoft Forms, Google Forms allows you to add conditional logic to your questions. When used correctly, this can help you create more efficient forms by asking only the questions that are relevant to the respondent. For example, if you are conducting a customer satisfaction survey, you can use conditional logic to ask follow-up questions only to customers who report being dissatisfied. This can help you save time by not asking unnecessary questions.
Mobile app: FormsApp is a mobile app that allows you to complete, submit and manage all your Google Forms from your phone. This can be useful if you need to fill out a form but do not have access to a computer. The app is available for both Android and iOS devices and works both online and offline.
Where Google Forms need improvement
Lack of versatility: Google Forms is great for conducting basic surveys and collecting data, but if you need to use a form to generate leads or sales, it may not be the best tool. For example, if you need to collect payment information or track inventory, you need to use a different tool.
Limited customization: Google Forms offers some limited customization options, but if you really want to brand your form or add complex features, you should use another utility (such as Microsoft Forms). There are no themes or templates, so if you want to create a form that looks unique, you should look elsewhere.
Lack of integrations: Google Forms can be integrated with Google Spreadsheets and Gmail, but if you want to integrate with other utilities, you must use another tool. For example, if you need to send data from your form to your CRM, you need to use a different utility. Moreover, Google Spreadsheets is not as feature-rich as the parent product Excel.
Less shareability: Microsoft Forms makes it easy for users to share forms via a QR code or share directly on social media. Google Forms, on the other hand, only allows users to share forms via a link. This may make it more difficult to collect data from potential respondents.
The last word in Microsoft Forms versus Google Forms
Both utilities are form builders that allow users to create, distribute and collect data from forms. They both have their advantages and disadvantages, but overall they are fairly similar. If you are looking for a tool to conduct basic surveys or collect data, any of these tools will work well.
In general, Microsoft Forms and Google Forms are both great tools for conducting surveys and collecting customer data. However, each has its own strengths and weaknesses.
When deciding which tool to use, it is important to consider your specific needs. If you need a utility that is more versatile or customizable, Microsoft Forms may be the better option. If you are looking for a tool that is more user-friendly, has more collaboration features and can add more elements to your actual form, Google Forms is the right choice.
Source: crazyegg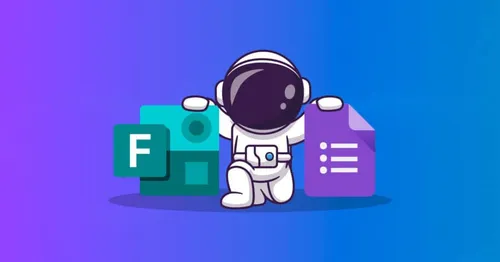 The latest news about Microsoft 365 and Teams in your mailbox every week.