 Microsoft and GoDaddy join forces for payments during virtual meetings
Read how GoDaddy and Microsoft announced their partnership to support small businesses in accepting payments during live Microsoft Teams meetings. Based on a shared vision to promote small business success, this partnership leverages the trusted services of GoDaddy, a leading company that helps entrepreneurs grow.
An important aspect of this collaboration is the integration of GoDaddy Payments into Microsoft Teams. This is particularly useful for service-oriented businesses, such as virtual tutors, who want to accept real-time payments and get paid directly for their services. With Microsoft Teams' new Payments app, small businesses can easily sync their GoDaddy Payments account and manage payments within the Teams platform, without having to send customers to external apps or payment websites.
Brenna Robinson, General Manager for SMB, Modern Work at Microsoft, explains: "At Microsoft, we want to help small businesses get paid for their virtual services more easily. GoDaddy has a strong reputation with SMBs and this partnership offers new growth opportunities."
Flexible payment processing without contracts or minimums
GoDaddy Payments offers flexible payment processing without long-term contracts or monthly minimums. This allows small businesses to save an average of 20% on card processing, which they can invest in growing their business. Payments are processed quickly and securely, with funds deposited as early as the next business day.
The partnership between GoDaddy and Microsoft also has benefits beyond Microsoft Teams, as GoDaddy Payments works seamlessly across major marketplaces and is compatible with other GoDaddy products, such as website and hosting plans, and GoDaddy Point of Sale.
Osama Bedier, President of GoDaddy Commerce, stressed the importance of the collaboration and GoDaddy's commitment to building a comprehensive commerce platform for small businesses. He said, "This expansion to Microsoft Teams meetings is a natural continuation of our efforts to provide business owners with new ways to conduct transactions."
The partnership between GoDaddy and Microsoft is an important step to support small businesses in accepting payments during virtual meetings. With GoDaddy Payments' integration into Microsoft Teams, business owners can easily accept payments and get paid directly for their services. This makes the entire process seamless and efficient.
Discover the benefits of GoDaddy Payments in Microsoft Teams and benefit from flexible payment processing for your small business. Save on card processing, receive fast payments and increase the efficiency of your business interactions.
Source: alertify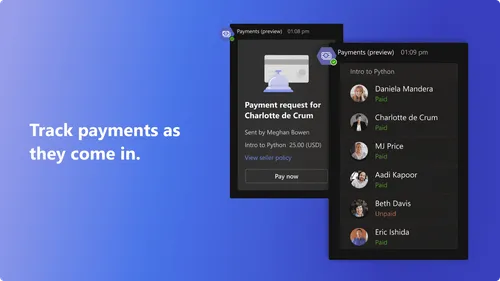 The latest news about Microsoft 365 and Teams in your mailbox every week.