 Microsoft 365 Services And Solutions Increase Productivity
Cloud-based services are very convenient in today's era. If you have Internet access, you can use a cloud service and store your data and software in the cloud. This makes it easy to access your files and programs when you need them. No need to worry about carrying your computer with you.
All your files are in the cloud and you can use them anywhere. Cloud-based services save time and money. You can save a lot of money when you buy cloud services, and you can also save time when you don't have to print, copy and fax documents. For example, you can quickly and easily share files and collaborate with other people.
Cloud Computing
Cloud computing is the use of a computer network to provide shared access to resources such as software and data. Many organizations use cloud computing to reduce costs and maintain a flexible workforce. There are four main components of a cloud service that make up the cloud computing infrastructure. These include cloud servers, network links, client devices and cloud management tools.
If you are looking for ways to improve productivity in your organization, look no further than the cloud. Cloud-based services can deliver cost savings and improved productivity. With the right solution, cloud computing can increase efficiency and bring more value to your business. Here are five benefits of cloud computing:
Cloud-based services reduce operating costs. Cloud services are delivered over the Internet.
Cloud technology
Cloud technology is a great way to run business more easily. It helps you save a lot of time and money. Using cloud technology means you don't have to spend a lot of money on the hardware you use. You do not have to pay monthly maintenance fees. You do not need to invest in a large network of computers.
You can also reduce the amount of storage you use, and you don't have to buy a new device every year. With a cloud-based system, you don't have to worry about updates. You also don't have to worry about buying a new device every year.
Why use Microsoft 365 Services?
There are several types of Microsoft 365 services available to Microsoft users. One of the best things about this service is that you get Office 365 as part of your subscription. You have the ability to edit your documents online and you can share your files with other people. You also have the ability to make changes to your emails and you can send them to anyone who has an email account.
Another great feature of Microsoft 365 is that you get access to Skype for Business, Yammer, Microsoft Intune and more. Skype for Business is a tool used to communicate with other people, which is why it is important to have this program.
Microsoft 365 lets you work from any device
If you want to be successful in your business, you need to start using Microsoft 365. This system is the best choice for beginners and advanced students. With Microsoft 365, you can work from any device. It gives you access to all your documents and programs from anywhere in the world.
It also provides you with the latest version of Office, OneDrive and Skype. It offers high-level security and is designed to keep your information private. There is no need to purchase the software because it comes with it. With Microsoft 365, you get a free upgrade every year.
If you want a system that allows you to manage your daily tasks, consider Microsoft 365.
Components of Microsoft 365
Microsoft 365 is a cloud-based application suite that provides various applications and services on a single platform. Microsoft 365 includes the following components:
Word: word processing and authoring
Excel: spreadsheet and presentation
PowerPoint: Presentation and drawing
OneNote: notes
Skype for Business: Unified Communications
Outlook: E-mail
Publisher: publishing and layout
SharePoint: collaboration and business content
OneDrive: document management
Yammer: social networking and collaboration
Cortana: intelligent personal assistant
Office Lens: document scanning and editing
Skype: video chat and conference calls
Mixer: Online games, music and videos
Conclusion
To keep your business running, you need to make sure your computer systems and network are always up to date. If you use Microsoft 365 services, you can update your software as needed.
In addition, you can use the latest version of Office. All of these features are available through a cloud-based subscription. Microsoft 365 is easy to use because of its flexible and user-friendly interface.
Source: noticiaslevante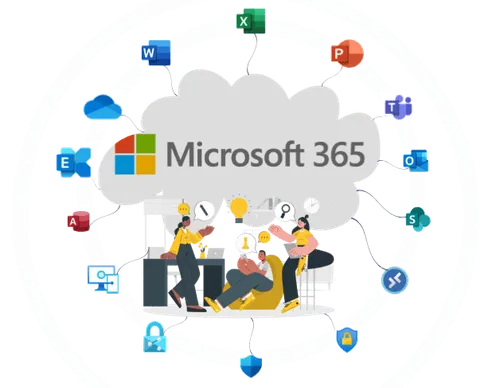 The latest news about Microsoft 365 and Teams in your mailbox every week.