 Introduction to Windows 365 Cloud PCs
Windows 365 Cloud PCs are the perfect solution for the modern workforce that wants to work securely and remotely. Cloud PCs enable secure remote working while maintaining the familiar Microsoft Windows experience. Securely stream your personalized Windows experience from Azure, including your desktop, apps, settings and content, anytime and from any device.
How do I get access to Windows 365?
Windows 365 can be accessed from any location with an active Internet connection. Users can connect to their personalized desktop through a supported browser or the Windows 365 desktop app. Windows 365 was developed by Microsoft from the beginning to support hybrid work experience. Whether your employees are front-line workers or senior staff who need to work in a secure IT environment, VPNs or custom remote access software are not required.
Are cloud PCs secure?
Windows 365 follows the Zero Trust security model. – so your Cloud PC is highly secure – and you go through the same authentication and authorization processes you would associate with Office 365. Security mechanisms such as conditional access, IP address and country restrictions, password policies and MFA (multi-factor authentication) can all be implemented.
With Endpoint Manager and Microsoft Azure AD, you also get access to a comprehensive suite of audit and access logs.
Because the Cloud PC is a fully featured Windows 11 desktop, it can also provide endpoint protection such as Sophos Intercept-X or Windows Defender, an MDR / EDR tool such as Sophos Managed Detection and Response or Huntress and other agents such as Cisco Umbrella.
Your typical patch and update policy also applies, so Windows and your apps are always up-to-date.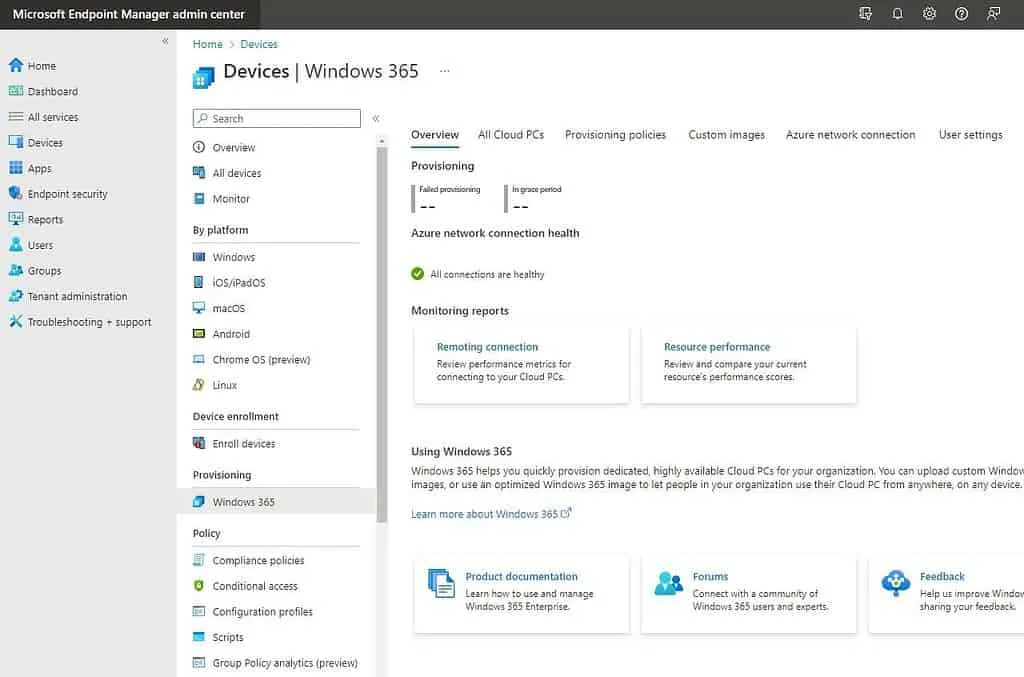 Where is my data located?
The cloud PCs can be located in different Microsoft Azure regions.
What is the difference between Windows 365 Business and Enterprise?
A detailed comparison is available on the Microsoft website, but based on our own experience, we have summarized the differences below:
Windows 365 Business
Good for organizations using office 365 and cloud applications (web-based).
Not a good fit if you

Legacy infrastructure.
Client-server-based desktop applications.

Basic Administration
No Azure subscription required.
Do not use a traditional Active Directory.
Windows 365 Enterprise
Suitable for organizations using Office 365, Cloud Apps and enterprise line of business apps.
Works in conjunction with Enterprise Active Directory.
Supports hybrid cloud/datacenter/on-premises operation.
Advanced customization, provisioning and management via Endpoint Manager.
Requires an Azure subscription.
Requires Active Directory.
My IT infrastructure is on-site, but I want some users to have cloud PCs – can this work?
Yes, we can build an Azure VPN in your on-premises IT environment. This means employees can use your systems from the office, while remote workers can use a Cloud PC and have similar levels of access. This type of setup supports a gradual transition to the cloud.
How does it compare to Remote Desktop Services (RDS), Citrix or VMWare?
Based on our experience, we believe that Windows 365 Cloud PCs offer the best performance of any remote desktop type solution, and Cloud PCs support all the services you have become accustomed to (ie Teams, video streaming, video calls, etc.).
How much is it?
Windows 365 Business
Basic: 2 x vCPU, 4 GB RAM, 128 GB storage, €28.20 per month
Standard: 2 x vCPU, 8 GB RAM, 128 GB storage, €37.30 per month
Premium: 4 x vCPU, 16 GB RAM, 128 GB storage, €60.10 per month
Windows 365 Enterprise
Basic: 2 x vCPU, 4 GB RAM, 128 GB storage, €28.20 per month
Standard: 2 x vCPU, 8 GB RAM, 128 GB storage, €37.30 per month
Premium: 4 x vCPU, 16 GB RAM, 128 GB storage, €60.10 per month
Source: manxtechgroup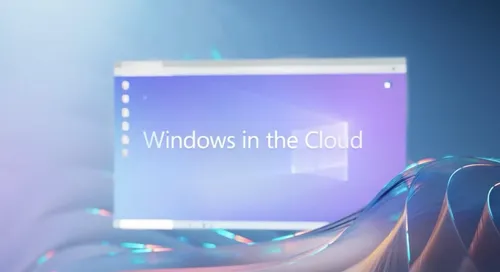 The latest news about Microsoft 365 and Teams in your mailbox every week.