 Enterprise adoption of Intune and Windows 365 Cloud PC grows rapidly
The latest news from Microsoft is that Intune and Windows 365 Cloud PC are reaching new heights in enterprise adoption. There is news from Microsoft's Q3 earnings call that the Cloud business is fizzling and that Surface and other PCs are not doing so well.
Windows 365 Cloud PC Microsoft's cloud-based VDI solution for personalized desktops. There are reports that 1/3 of the Enterprise customer base has purchased the Windows 365 Cloud PC service. This is a very significant number.
The installed base of Intune and Enterprise Mobility grew 15% to about 250 million seats. These are amazing numbers for Intune, and we can get the same. The Enterprise Mobility category does not only consist of Intune products, but there are other products that fall under this category.
As part of Microsoft's Q2023 announcement for 3 , Windows OEM revenue fell 28% and device revenue fell 30%. Even Microsoft Teams is reaching new heights with 300 million monthly active users.
| Windows Cloud PC | Intune/Enterprise Mobility |
| --- | --- |
| 1/3 of Microsoft's Enterprise customers have purchased the Windows 365 service | Growth is 15% |
| | The install base is nearly 250 million |
Table 1 – Intune and Windows 365 Cloud PC reach new heights in terms of enterprise adoption
Windows 365 Cloud PC – New heights
According to Microsoft's Q3 2023 earnings, Windows 365 Cloud PC is reaching new heights in terms of enterprise adoption. According to Mark Hachman:
"Record monthly active Windows devices and usage compared to pre-pandemic. One-third of Microsoft's enterprise customer base so far has purchased Microsoft's cloud-delivered Windows 365 service. (That's a pretty big number!).
According to IDC research reports, Microsoft Desktop as a Service solution (Windows 365 Cloud PC) is positioned in the Leaders category. This also indicates that more and more enterprise customers are adopting this Windows 365 Cloud PC solution. Report source: 2022-2023 IDC MarketScape for global desktop as a service.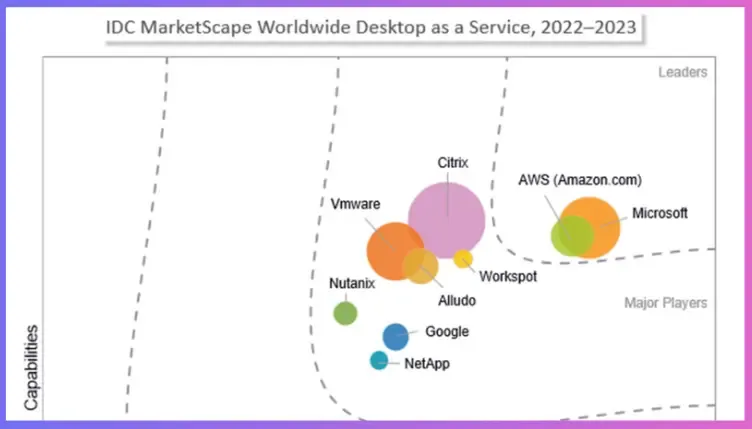 Intune adoption reaches new heights
Intune adoption is reaching new heights along with other Enterprise Mobility technologies, according to Microsoft's Q3 earnings report. According to Brad Sam 's tweet, Enterprise Mobility's installed base grew by
15%
to nearly 250 million seats.
Source: anoopcnary
The latest news about Microsoft 365 and Teams in your mailbox every week.