 Citrix HDX Plus for Windows 365 is now in public preview
Citrix has announced the public preview of Citrix HDX Plus for Windows 365 and that it is now available, bringing unique Citrix capabilities to cloud PCs around the world.
Citrix HDX Plus for Windows 365 enables your organization to extend hybrid work scenarios on cloud PCs to your most challenging use cases. With Citrix HDX Plus for Windows 365, your organization benefits from:
The best possible high-definition experience in any network and application. This includes broad support for telephony and unified communications tools, optimized multimedia performance and adaptive throughput for stunning experiences on low-bandwidth, high-latency connections.
Seamless integration with third-party identity solutions that provide diverse support for authentication and authorization.
Support for the broadest range of devices and peripherals in the industry to ensure an exceptional experience at every endpoint.
Additional layers of security for applications and data through detailed policy controls that protect corporate data from exfiltration.
Getting Started
Citrix HDX Plus for Windows 365 provides a shared management experience between Microsoft Endpoint Manager and Citrix, simplifying your deployment. To enable Citrix HDX Plus for Windows 365, administrators managing cloud PCs through an existing Windows 365 Enterprise subscription can simply enable the new Windows 365 Citrix connector found in their Microsoft Endpoint Manager console, as shown in the screenshot below: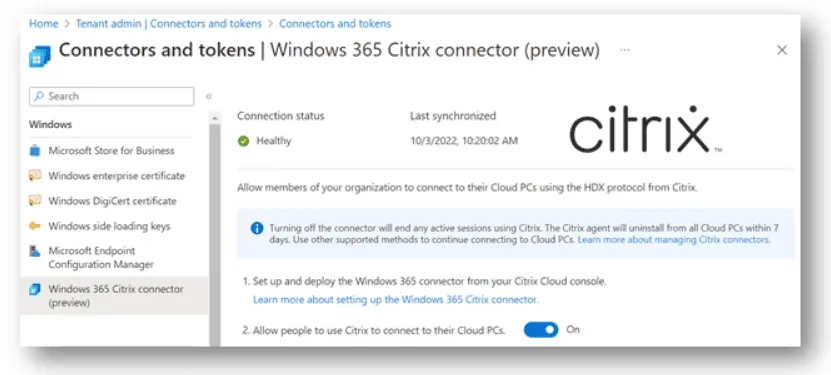 Next, administrators go to the Citrix Cloud console to complete four simple configuration steps: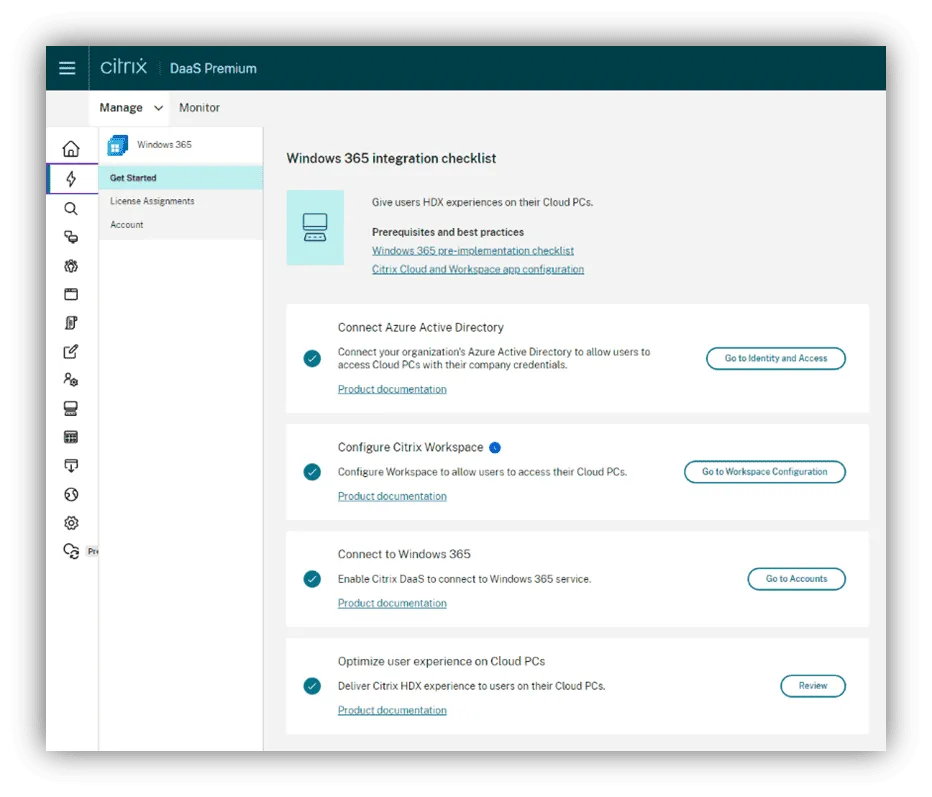 After completing this initial configuration and granting access to Windows 365, administrators easily select users to receive their new enhanced Cloud PC. Citrix components are automatically deployed in the Cloud PC and end users seamlessly switch to Citrix no matter how they connect.
Existing Citrix administrators can manage cloud PCs alongside their other Citrix apps and desktops, applying access policies and security controls consistently across their enterprise.
End users can access their Citrix-enhanced cloud PCs through windows365.microsoft.com or through the Citrix Workspace app among other Citrix-provided content.
Access your Preview today
If you want to use this preview, you only need to meet a few quick requirements. For Windows 365, you need an Azure Active Directory domain, Microsoft Endpoint Manager and an active Windows 365 Enterprise subscription. Citrix HDX Plus for Windows 365 is available to all Citrix DaaS premium and Premium Plus customers. If you are not a current Citrix DaaS Premium or Premium Plus customer and would like to participate in the preview, please contact your Citrix account representative to request a trial version.
You can find a short guide here to help you complete the integration and customize your environment.
Source: citrix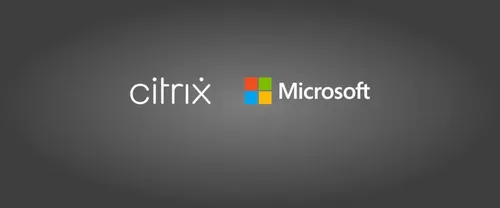 The latest news about Microsoft 365 and Teams in your mailbox every week.