 All Microsoft 365 apps explained
Microsoft 365 is a subscription-based service offered by Microsoft that gives you access to a huge product line of Microsoft Office. Word, Excel, Outlook and PowerPoint are the usual Microsoft apps we all know, but Microsoft 365 provides access to many other innovative Office apps. So this blog will explore all the Microsoft 365 apps so you can get a better idea of all of them and possibly find new ones that are useful to you.
Viewing your apps in Microsoft 365
The very first thing you need to know is how to access all the apps available to you under your Microsoft 365 subscription. To check that, go to Office.com and sign in with your login information. Once you log in, you will see popular apps such as Word, Excel, PowerPoint and similar apps in the left sidebar. Click on the "All Apps" icon in the lower left corner and it will show you all the Office apps that are accessible to you.
If you are a consumer of a personal or family account, you may see some new apps, such as Sway, Power Automate, etc., that have been added to your account. Likewise, if you are a work or school user, you may see even more new apps, such as Bookings, Lists, Visio, Yammer, etc. We will explore all of these apps in this article.
Calendar
Calendar app is a standard calendar app that offers all the functionality you would expect from a calendar-based app. You can set up meetings or appointments with others and also see who has accepted or declined your meeting request. In addition, the app also gives you a reminder when a scheduled meeting is approaching. In addition, you can also synchronize your calendar with your smartphone and stay more productive.
Excel
Excel is a popular Microsoft app that uses spreadsheets to organize and format data with functions and formulas. You can even get insight into your data in graphical form and can do much more with your data.
Family Safety
The Family Safety app is available to consumers and offers several features, such as setting screen time for Windows and Xbox One, content restrictions, app and game limits, and so on. In addition, you can also find where your family members are and even use the drive safety feature to monitor how your children are driving.
Forms
The Forms app allows you to create surveys, quizzes or forms that you can share directly with participants and view the results in real time. You can create intuitive surveys, review pages and similar other forms. You can visualize results directly and even export them to Excel.
one drive
OneDrive is a cloud storage solution from Microsoft that allows you to store your files and all other data in the cloud (Microsoft servers). You can access those files anytime, anywhere and even share them directly with others. Moreover, it also helps you to recover your files if your computer breaks down or if you accidentally delete those files from your computer.
OneNote
Just like your physical notebook, OneNote is a digital notebook that allows you to digitally take notes and make them attractive with different fonts, images, bullet points, and so on. You can access these notes from different devices at any time.
Outlook
Outlook is an email client, which means it allows you to send and receive emails. It comes with many features to enhance and automate your email experience. For example, you can create a rule to automatically transfer emails from a specific person to a special folder. Moreover, you can easily search very old emails, pin them and perform many other functions.
People
People is the app that lets you manage all your contacts. You can include information such as their email address, phone number, address or small notes about them. After you set up contacts in People, you can also create a list of specific contacts to email all those contacts in the list directly. In addition, you can also create groups that allow you to share emails, calendars, files, etc. Can share.
Power Automate
Power Automate helps you automate tasks that you perform repeatedly. For example, you can set Power Automate to save all attachments you receive in the email to OneDrive. In short, it's designed to make your Microsoft 365 experience easier and increase your productivity.
Powerpoint
PowerPoint is another very popular Office app that allows you to create professional presentations with attractive images, graphics, text, etc. You can even add 3D shapes and also record your presentation with audio and video. Moreover, it also offers a unique feature called Speaker Coach that helps you become a better presenter.
Skype
Skype is a messaging app that allows you to do text messages, voice calls, video chats and also share files. It has no meeting time limit, so you can hold longer meetings without any restrictions.
sway
Sway allows you to create interactive reports that you can easily share with others. You can think of Sway as a combination of PowerPoint and an interactive web page.
Source: sunteltechnologies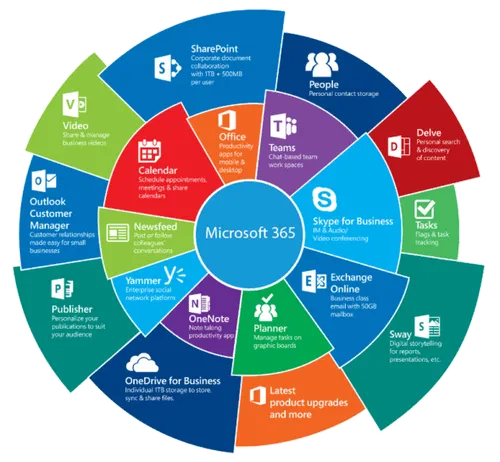 The latest news about Microsoft 365 and Teams in your mailbox every week.