 Google Drive versus OneDrive: which is the best cloud storage app for Android?
Should you use Google Drive or Microsoft's OneDrive as the cloud app on your Android phone? Here's how they relate.
Currently, there are many cloud storage apps available on Android, each with slightly different storage capacities and other additional features. Google Drive and Microsoft's OneDrive are the most notable two in this space.
Both Google Drive and OneDrive are pre-installed on some Android devices – the latter is usually bundled into Samsung Galaxy devices. So how do the two cloud storage solutions compare on Android? Let's find out.
Automatic backups
One thing that Google Drive has a distinct advantage over OneDrive on Android is the ability to back up a device's configuration and data.
With Google Drive, you can back up your apps, account data, device settings, SMS and call history in a few easy steps if you want to do it manually. Google Drive also automatically backs up your device when you use Wi-Fi after it has been idle and charged for two hours. You can access the backup data on a new device when you set it up for the first time or when you have reset your phone.
OneDrive does not have this seamless automatic backup option available. You must manually upload the files you want to back up and sort them accordingly. In addition, you need to find other ways to back up your SMS, call logs and general device settings.
If backing up your settings and apps is something you need, Google Drive would be the better of the two. The same is true if you want your data to be backed up without having to remember to do so.
Most native and third-party file management apps work seamlessly with Google Drive for obvious reasons: Google is the company behind Android. You can access your backup files directly from your file manager by entering your Google account information.
On OneDrive, file management integration is not always a guarantee unless you own a Samsung Galaxy device. OneDrive became the default cloud storage solution on Galaxy devices after Samsung stopped syncing photos on Samsung Cloud in 2022.
If your file manager offers integration with one or both of these cloud storage options, access is usually similar. You enter your login credentials for Google or Microsoft and get instant access to all your files and folders on Google Drive and OneDrive, respectively.
Google Drive is the more reliable option with respect to file management integration. In cases where a file manager supports OneDrive, it is usually available alongside Google Drive.
Integration of photo galleries
You can manually back up photos to both Google Drive and OneDrive, but you need an additional app to automatically sync your gallery. For Google Drive, you need Google Photos to manage your gallery. OneDrive has this capability available to Samsung Galaxy devices through Samsung Cloud.
If you own a Samsung Galaxy device, consider using OneDrive to sync your photo gallery. Google Drive would also serve you well if you install Google Photos. It is also worth noting that Google Drive's free subscription comes with three times as much storage as OneDrive's – 15 GB compared to 5 GB.
App size
OneDrive takes up significantly more space on your device than Google Drive. If you want to minimize storage usage by apps, you're better off with Google Drive. If you are using a Samsung Galaxy device, you may be stuck with OneDrive because it is pre-installed whether you want to use it or not.
Sharing files
File sharing works the same way in both apps. On Google Drive, you can share a link to specific files or folders with edit or view permissions. With OneDrive, you can do the same thing, but with an additional security feature. You can password protect links before sharing them with other people in case they get into the wrong hands.
All files you work on in Google Documents, Spreadsheets or Presentations are automatically saved in Google Drive. On the other hand, if you use Word, Excel and PowerPoint online, your files are synced in OneDrive.
You can easily access all your documents in one place on any platform with Google Drive or OneDrive. In this case, if you use Google's office apps, Google Drive is the best cloud storage option for you on your phone. If Microsoft Office apps are your daily driver, you'll want to use OneDrive to keep all your files in the same place.
Available storage space
The free Google Drive subscription comes with 15 GB of storage. OneDrive offers only 5 GB. You can upgrade the cloud storage available for both apps with a monthly or annual subscription. OneDrive subscriptions start at $0.99 per month for 50 GB and Google Drive subscriptions start at $1.99 per month for 100 GB of storage at the time of writing. If you are willing to pay for extra storage space, there is not much difference in their prices.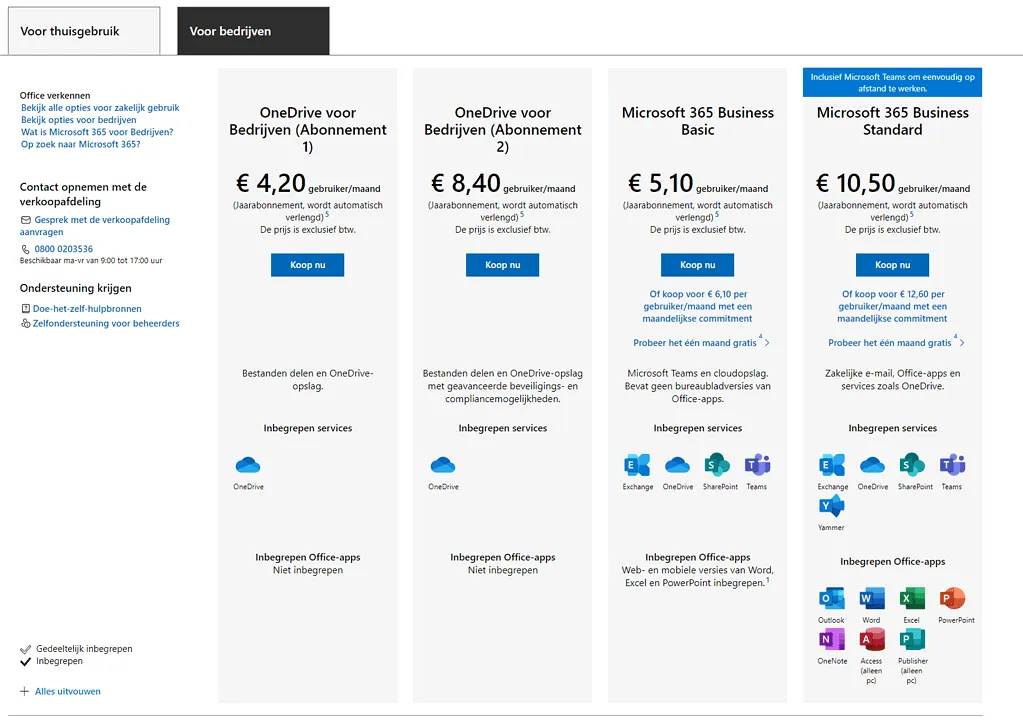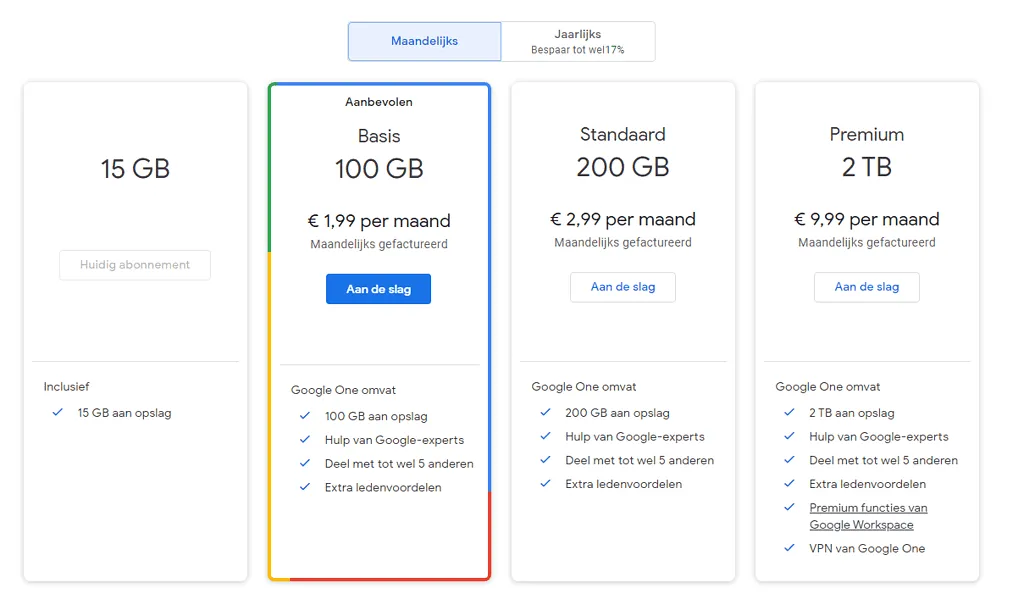 Additional features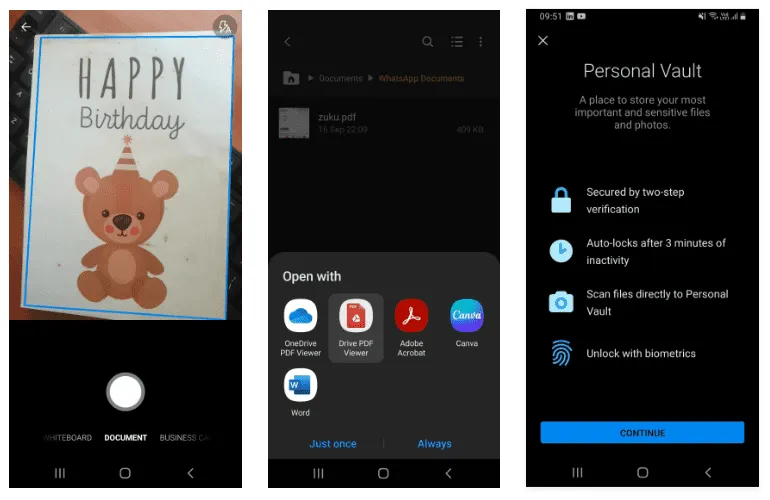 The two apps have similar additional features that are quite useful: document scanning and a PDF reader.
Scanning documents with Google Drive is easy and can save you the need to download special scanner apps. OneDrive's scanning tool is also easy to use: just launch the app and tap the camera icon to scan your documents, then play around with the available scanning settings.
The built-in PDF reader on both OneDrive and Google Drive is automatically activated when you open a PDF document. The PDF readers are almost identical, but OneDrive has a slight edge with the ability to annotate PDF files.
OneDrive has one additional feature missing from Google Drive: a personal vault to secure sensitive files. You will need a password or biometrics to access files in this folder. Setting up OneDrive's personal vault is quick and available on all platforms.
Which cloud storage app should you use?
Google Drive and Microsoft OneDrive are both great options, but the former has distinct advantages over the latter. OneDrive falls short on automatic device backup and the fact that the free subscription offers only a third of the storage capacity offered by Google Drive.
Google Drive would also make sure you get everything in order, including your apps and call history when you get a new device.
OneDrive only has an edge over Google Drive with the ability to annotate PDF files and the personal vault to secure sensitive files. Both apps work on all other major platforms, including iOS, Windows and the Web.
Source: makeuseof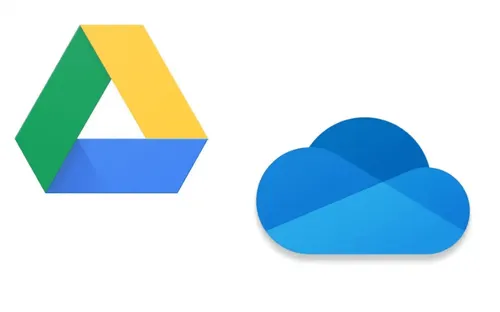 The latest news about Microsoft 365 and Teams in your mailbox every week.