 Data Migration: OneDrive versus SharePoint versus Teams
The purpose of this blog is to provide guidelines for Microsoft 365 migrations, including the differences between the main Microsoft 365 apps (OneDrive versus SharePoint versus Teams) and where content should be allocated based on purpose, target audience and the tools needed to support that content.
Microsoft 365 migration planning
Before you begin your Microsoft 365 migration, especially your content migration, plan for the outcome by assessing your current source environment. What you discover affects your overall strategy and timing, including:
Designing the target environment and mapping between source and target systems.
The amount of content you are migrating. Determine if the content is redundant, outdated or still relevant.
Building user onboarding into your advance planning. Communicate early and often with your users about the migration and how it will affect them. Don't wait until the end to prepare them for the change.
Migrating Microsoft 365: OneDrive versus SharePoint versus Teams
When to use onedrive
OneDrive is designed to store files that are personal to you. Each person in your organization gets their own OneDrive, which contains at least 1 TB of space.
The recommendation is that if you are working on a file yourself, save it to OneDrive. For example, use OneDrive versus SharePoint when working with personal files that should not be shared, or drafts of files that are not ready to be moved to a SharePoint library or Teams for collaboration.
While users can share documents from their OneDrive site, they should not use OneDrive to store documents that should instead be stored on a SharePoint site. The following guidelines should be communicated to users regarding when to save something in OneDrive:
Documents that you personally need to do your job, but that don't benefit others. For example, documents such as task planning spreadsheets that you use to organize your work.
Documents you need to share with a few limited people for a limited time. For example, you and a few others are planning a team party and you post a pdf of the menu of a restaurant the team is considering.
First draft documents you are working on that you are not quite ready to share with others. However, if this document is to be shared with a wider audience or live on for a long period of time, it should be stored on a SharePoint site.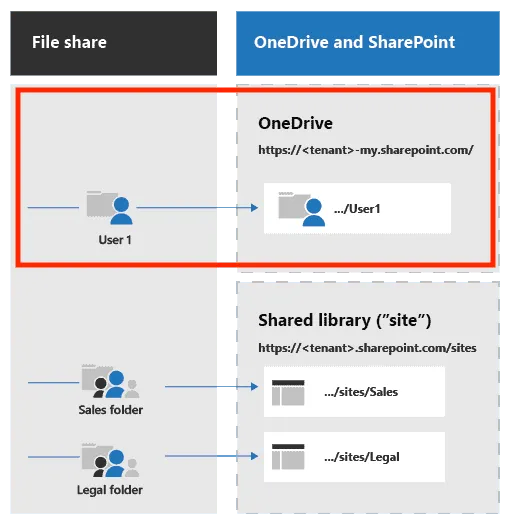 When to use sharepoint
A SharePoint site is a container of information and data. Information can be stored in repositories such as lists, libraries, calendars, etc. When considering SharePoint as a destination for your files, it is important to first distinguish between the two types of modern SharePoint sites available and when the best scenario is to use them.
Communication sites – The primary purpose of this type of site is to inform readers – primarily for them to read, not create. A typical use of a communications site is an intranet. Used to broadcast information to a wide audience, on this type of site only a small group of members contribute content that is consumed by a much larger audience.

Share content such as news, official documents and reports that you want to share visually in an attractive format, an example is a human resources site with benefits information.
Inform and engage dozens or hundreds of readers (or the entire organization).
Showcase the services your group offers or tell a story about a new product launch to the entire organization.

Team sites : team sites are primarily used for collaboration between members of your team or with others in a specific project, allow most members to contribute content to the site, and the information is limited to only members of the team or project stakeholders. This type of site may or may not be connected to a Microsoft 365 group. Use this type of site when:

Content is intended to be shared with a small audience for specific purposes and tasks to be completed.
Follow and stay updated on project status.
Organize and co-author shared content.
Optionally connect to a Microsoft 365 group to access team resources (for example, Microsoft Teams).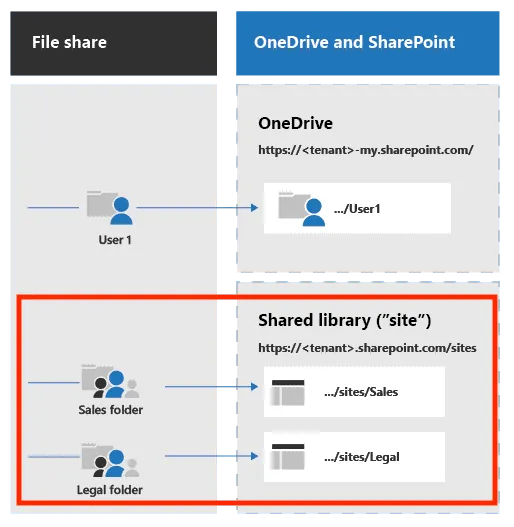 When should you use Teams?
When considering the differences between SharePoint and Teams, it is important to note that a Microsoft Teams workspace is a SharePoint team site (see the previous section) that is connected to a Microsoft 365 group. It's a collection of people, conversations, files and tools all in one place. It extends the capabilities of a regular SharePoint Team site by providing chat options, real-time collaboration and communication, and meeting, file and app sharing.
Use a Microsoft Teams workspace when you want to do the following:
Assemble a team.
Communicate via chat instead of email.
Take advantage of rich chat with text, audio, video and file sharing.
Safely edit files at the same time.
Offer transparency to the team by posting and starting threads.
Create a private chat to develop an idea and then share it with the rest of the organization.
Store all files related to a topic in one place.
Integrate your favorite apps, such as Planner, Trello, OneNote, etc.
Looking for further guidance?
Now that you understand the key differences between OneDrive and SharePoint versus Teams, we hope you feel better prepared to use these apps effectively. If your organization is beginning its Microsoft 365 migration and you are looking for expert guidance, ALTA-ICT can help.
Source: quisitive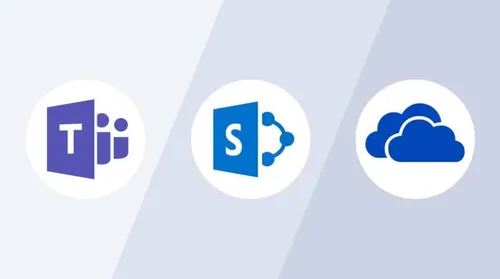 The latest news about Microsoft 365 and Teams in your mailbox every week.